No More Spam since we started using GFI MailEssentials Complete Online
Spam had become such a problem for our business that we considered outsourcing our entire email system just to push the problem off to someone else, but that would mean problems for our phones, our user setup, and a ton of other headaches we just weren't ready to deal with yet. Then, we started looking at outsourcing just the mail filtering and found GFI MailEssentials Complete Online. MCO is a cloud based service that provides anti-spam, anti-phishing, anti-virus and more, with some great features that we were very excited to test out, so we signed up for the free trial. I think it took about a day for us to decide this was the product for us.

I've never seen an easier service to set up

You hear about free trials all the time. They usually start with "please enter your credit card number here" or "a sales professional will be in touch soon". Not with MailEssentials Complete Online (MECO). I filled out the form (no credit card, no call from a sales guy), got my username and password a moment later, and logged onto the console using my web browser. To use the service, I had to enter my domain, import my users, and my mail server specifics. Then I took the DNS information provided, updated my records with my ISP, and waited for the updates to propagate.

MECO can use your Active Directory to sync users, making the task of provisioning new users and removing deleted users automatic. This is a very nice feature that can save you a ton of time if you have a larger company.
Immediate results

We were keeping an eye on our Exchange server as we waited for the DNS changes to propagate, and we could tell as soon as they did because our very busy Exchange server suddenly wasn't. Mail was getting through, but only legitimate mail was getting through. I didn't think CPU utilization could actually average single digit numbers, but ours has since we started using MECO. It was amazing to see just how much spam and junk must have been hitting our system before we started to test MECO, because suddenly there wasn't any. It used to take minutes for an email from my Gmail account to get to my work account; once MECO was in the mix it took seconds. I know that's not a very technical test, but it's what users are going to try to see if "mail is slow" and now it is very fast.

Simple Administration

One thing we really liked about MailEssentials Complete Online is that we didn't have to install anything on our side. No agents on the servers, no software on the desktops, it just needed some DNS changes. Management is through a web browser, and the "portal" is very well laid out.


You have tabs for each of the major function areas, with simple-to-read and understand options for each area. The design is very intuitive, so you can get up and running in no time.

Here's an example of the spam settings. We really like that it indicates recommended settings. That makes it easier to adjust things if you are not sure what to try.

Something for your users

Here's a little something for your users, which is also good for you. GFI MailEssentials Complete Online will send each of your users a daily digest of blocked messages, so they can review their own personal quarantine. They can release any messages that they want by clicking a link in the digest, but they can also log onto MECO anytime they want to check for a message in case it was blocked as spam. They get "self-service" and you get a break from all the tickets for "delayed messages". Here's a screenshot I stole from the GFI website.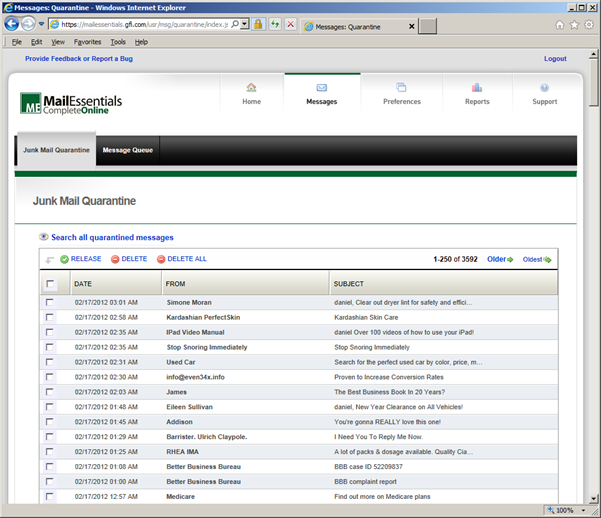 This self-service feature also can act as a backup service to your email. If your site is down, users can logon to the portal to send and receive messages.

Protection works both ways

Everyone worries about filtering incoming messages, but you shouldn't let everything go outbound without checking it too. If you configure your mail server to use MECO as an upstream relay, it can filter your outbound email, which can block any infected messages before they get to a customer, and also flag any messages that someone else would just consider spam. Our marketing guys have gotten a lot better at their emails once they saw how much their stuff looked like spam!

Archiving

You can also use the service for archiving. We don't have to use archiving because of any regulation yet, but the business we are in means it won't be long before we will be required to. With MECO, we just needed to turn it on. No extra software or yet another product to deal with. As with the filtering service, the archive is simple to set up and is managed through the exact same console.

Disclaimers

We're also using MECO to tag a standard signature/disclaimer to the end of every outgoing message. We include our URL, customer service telephone number, and a blurb about intended recipient; you get the idea. You can do disclaimers per user, but we like to have the one standard for the entire company.

Logs and Reports
In addition to the daily digests each user gets; you can get statistics and reports out of MECO. You can report on volume, run message delivery logs, check quarantines, and more.

Business continuity
Perhaps the best part of the service is the fact that it provides built-in email continuity. If our mail server is ever offline, not only does MECO queue those messages, but our users can simply login to the control panel where they can access and respond to those messages, as well as create new messages. Hopefully our mail server will not have a problem, but if it does we know we will still be up and running thanks to MECO.

We love this product

You get a thirty day trial of GFI MailEssentials Complete Online, but we knew at the end of the first day that we wanted it. You subscribe to it on an annual basis, and pay for it per user, with no startup costs or hidden charges, which makes it easy to budget for. We've seen almost no false positives, and not a single virus has made it through. The users have all been very happy with the self-service aspect, and you know users are never happy with anything. Give it a try yourself. You'll be glad you did.