CodeTwo Exchange Rules Pro – Operational review
CodeTwo Exchange Rules Pro is an email management program for Exchange Server which provides many useful features and enhancements for Exchange administrators over all mail that flows within the organization.

Though we have transport rules feature in Exchange 2007 and 2010 provides an incredible amount of control on both internal and external mail flow, but these are pretty uncomfortable to work with due to the configuration of the Exchange Management Console wizard. For example we can create normal disclaimers using built-in transport rules but we do not have HTML editor in the built in transport rules options, so that we can create a colorful (or graphical) disclaimers requires a lesson in HTML or a search for pre-existing disclaimers that can be pulled. CodeTwo Exchange Rules is an add-in which has the lot of futures and easy to use in-built solution for these limitations. This takes the capabilities of Transport Rules and makes them easier to work with, boosts them in highly useful ways, and adds a few new capabilities.

Download a free copy here: CodeTwo Exchange Rules Pro
Installation:
The install is very easy, download the application and double click on setup file next, next, finish. CodeTwo Exchange Rules won't work with pre-2007 Exchange Server due to its nature (though they have an Exchange Rules for Exchange 2000 and 2003 that has some signature and disclaimer management). Exchange pro has to be installed on the Hub Transport servers and during the installation the Microsoft Exchange Transport is stopped. If there are multiple Hub Transport servers and mail flows between them it need to be installed on each Hub Transport server and make sure things like disclaimers are not applied multiple times as it moves. It is also possible to deploy CodeTwo Exchange Rules Pro in a clustered environment as well (even if single server install or a clustered install the application must be installed on the local drive, not on a shared drive).

Note:
Though the administrative console is installed on the local server, it does not mean that we have access only from that server. We can access the console remotely by configuring the remote access features, ports and access rights.

Attributes of the Code Two Exchange Rules Pro:

There are 4 main Attributes in Code Two Exchange Rules Pro. Let us discuss one by one by creating the new rule:
Start -> All Programs -> Click on Exchange Rules Pro Administration Panel.
Once it is connected, click on Add to create a new Rule: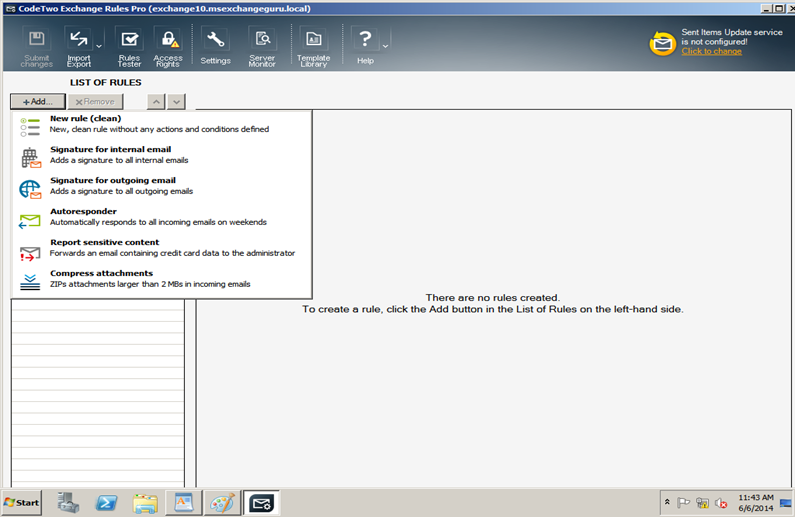 Overview: This includes the Name and description of the Rule we want to create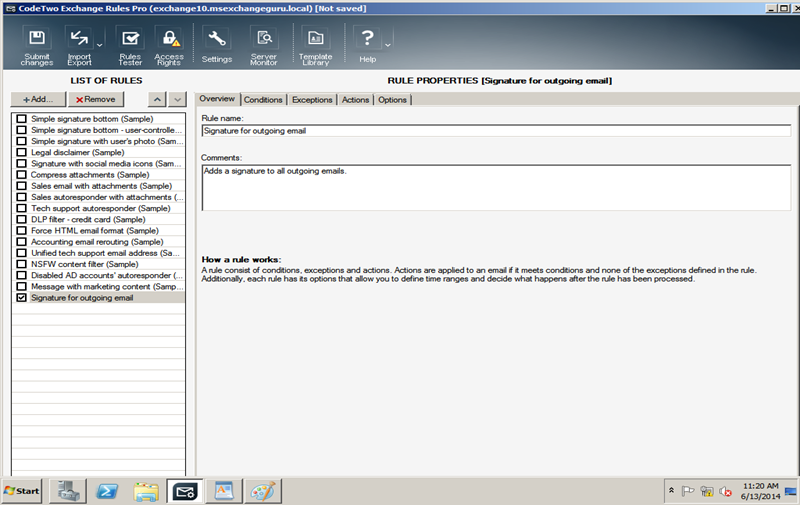 Conditions: Use to define the criteria that an email must be processed by this rule, such as Sender, recipients, subject etc. as below:

Exceptions – Use to define the criteria that exclude an email from being processed by this Rule.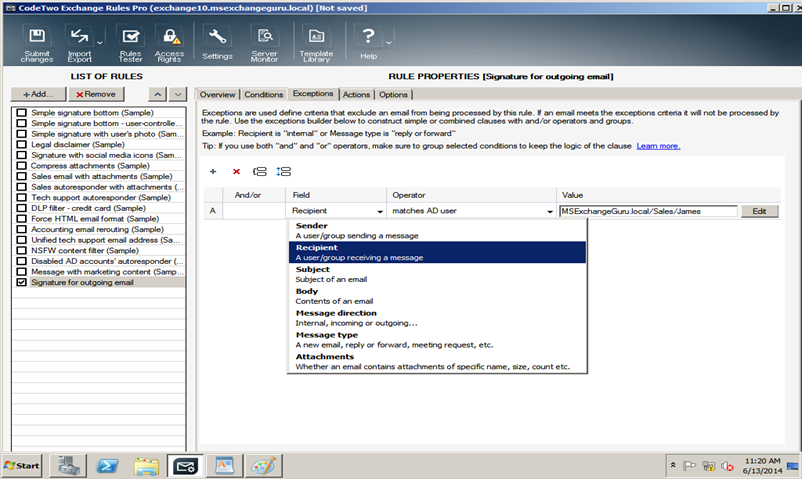 Actions –Use to perform the action that you want the rule to take, such as adding a disclaimer, removing profanity, or responding with a pre-configured message.

Options – Extra details such as whether to continue processing additional rules after this one, or specific time ranges that the rule applies to.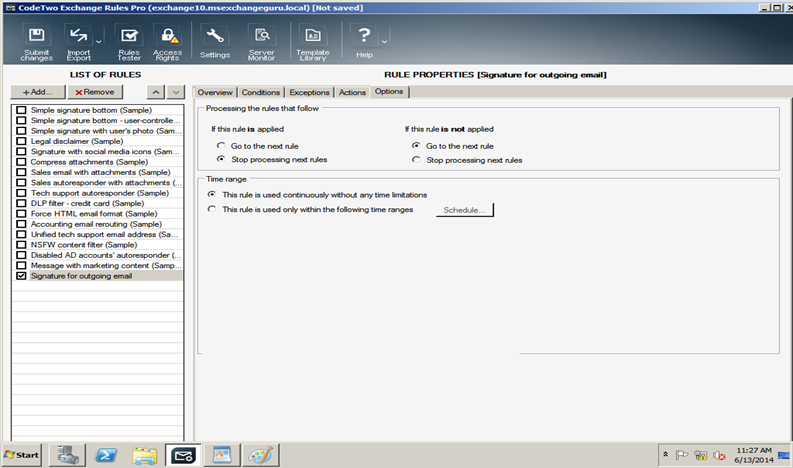 Once we have created the rule, need to save the rule by clicking Submit Change button.

RULE TESTER

We have an excellent tool called Rules Tester within this tool itself. The Rule Tester allows us to work with several test/fake accounts and test how the rule will work before deploying to production.

In the below example I have shown how the common auto signature will work for the IT Team:

Click on the Rule Tester from the CodeTwo Exchange Rules Pro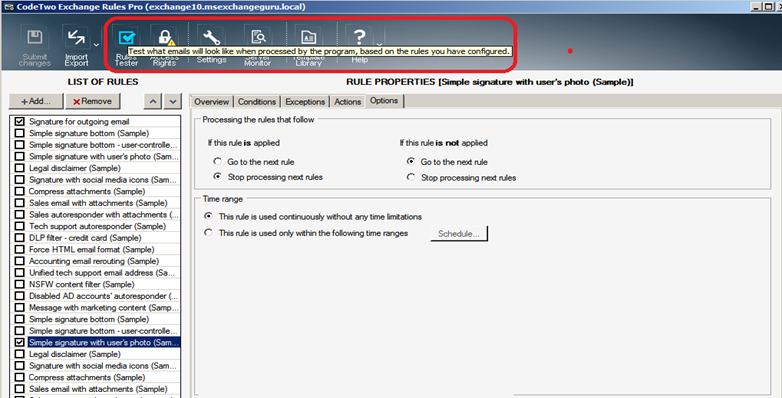 Open a new email by clicking on New Email button
Select From, to, CC (if any. Type the subject and body and just click on send(no need to add signature manually)
Verify the email under recipient inbox from the same rule tester and you can see the signature added automatically which you have set while creating the Rul.
Features of CodeTwo Exchange Rules Pro

Insertion of footers into selected places in messages

Images and logos in signatures (as an in-line attachment)

Advanced HTML formatting

HTML template editor

RTF template editor

Intuitive wizard for configuring rules

Active Directory fields support

Insertion of footers into selected places in messages

Support for headers and side-banners

Insert disclaimer once during multiple replies

Easy insertion of static images

Use of dynamic images

Auto-removal of redundant lines in signatures

Footers visible in Sent Items folders of users

Multiple rules per message

Email content control

Email forwarding

Email rerouting

Email filtering

Email blocking

Email auto-responding

Automatic email attachment insertion

Attachment compression

Outlook themes and stationary remover

Advanced Rule tester

Time rules / Time stamp

Suppressing footers

Forcing footers

Rotating banners and disclaimers

Email categorization

Pricing and Support

There is a one-time price based on the number of users within your organization and then a support price that needs to pay annually (which is lower than the one-time price). Bulk pricing applies so that the more users you have, the lower the cost per user.

Download a free copy here: CodeTwo Exchange Rules Pro
Ratish Nair

Microsoft MVP | Exchange Server

Team @MSExchangeGuru