Exchange Server 2016: All You Need to know Part 2
In the previous blog we learned about what is coming new in Exchange 2016. In this blog we will review the Exchange 2016 architecture.

Exchange Server 2016: All You Need to know Part 1
Exchange Server 2016: All You Need to know Part 3
Exchange 2016 Architecture

These are the declarations from Ignite and subject to change at the time of RTM release.


    -Primary Changes

Edge Transport

is coming with RTM – So yes most of you guessed correct in the NY Exchange User Group on our Exchange Edge Session.

Client Access Server merged with mailbox role server so it's just mailbox server role and Edge Transport Role.

New Office Web Apps Server coming up: It is a new server which allows attachment editing in OWA. This is optional server and not a necessity.

Data rendering and client connection will occur locally on the server where mailbox exist. In other words connection will be proxy or redirect to the mailbox owner server.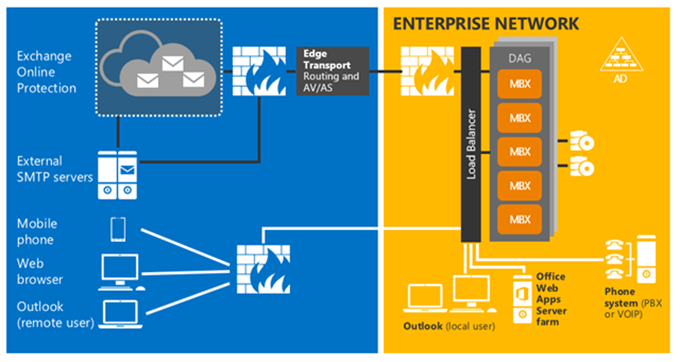 -Topology Requirement

Exchange 2007 will not be supported in the co-existence. So we can say bye to Exchange 2007

Exchange 2010 SP3 RU11 or later and Exchange 2013 CU10/11 or later will be supported in co-existence.

Exchange 2016 should be installed on Windows 2012 R2 and windows server 10 because DAG should be able to support IPLess DAG.

Forest and Domain functional level should be windows 2008 R2 or later. This means domain controllers should be higher than windows 2008 R2.

No windows 2003 or 2008 domain controllers can exist. You need to upgrade them or demote them.


Outlook clients should be the following or higher


Outlook 2010 SP2 or later with KB2956191 and KB2965295 (These patches provides Mapi/http)

Outlook 2013 SP1 or later with KB3020812 (This patch fixes shared mailbox and legacy Public Folders)


Outlook 2016

-Mailbox Server Role will do the following

Authenticate Clients

Do a directory look up

Determine the mailbox version

Location of the mailbox database

Decision on proxy or redirect

Also determine how store process and data rendering.

-Mailbox Server Role Changes

Only IP Less DAG

Still 16 mailbox servers

Still 100 DB copies per server

Still ESE Database engine

Replay lag manager will be enabled by default which means if we have 2 passive database copies then 3rd passive database copy will be Lag copy which will not require to be enabled. Similar in case of losing one database copy lag copy will automatically commit the logs and become 2nd passive copy.

New IO latency monitor will be monitoring disk IO and don't replay the logs in case lag copy requires to replay the logs.

Database failovers will be 33% faster

Indexing Improvement: Indexing search for the passive database copy will be done locally through passive database copy. Before Exchange 2016 passive database index used to go to active database copy to do Index which has consumed lot of CPU and network bandwidth. 40% network bandwidth should be saved by this. Have a look into the indexing architecture.

-Office Web Apps Server Role provides the following:

Content rendering for MS office attachment files

Rich browser viewing

Side by side viewing and editing of attachment in OWA.

Pulling the attachments from share point.

-MAPI/CDO

Time to say bye to MAPI/CDO.

Blackberry 5x will not work

Any app uses MAPI/CDO would needed to be updated

-Client Protocol Architecture

    -MAPI/HTTP

Microsoft introduced in Exchange 2013 SP1

In Exchange 2013 SP1 it used to be disabled

In Exchange 2016 it will be enabled by default

In Exchange 2013 it was enabled or disabled for the whole org

In Exchange 2016 it will be configurable at per user level same as protocol.

We will also be able to control if autodiscover should expose Mapi/http configuration or not.

Pop up "administrator has made some changes so restart outlook" will not come. It will wait for the user to restart outlook

Remove RPC stack dependency which means no RPC over http.

More reliable connection and faster connection with hibernation feature

Improved diagnostics.


Mapi/Http connectivity architecture will be following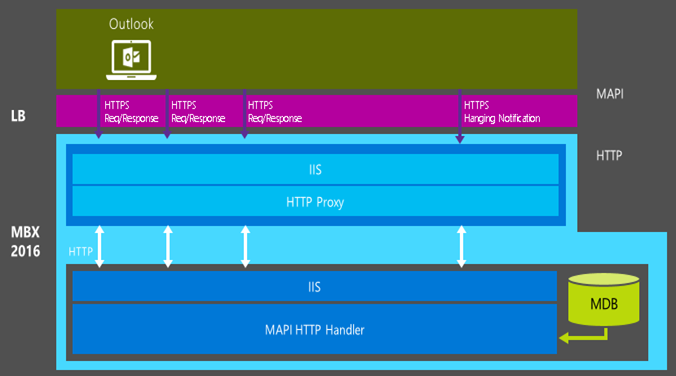 -Connectivity Flow in Exchange 2010 Co-existence with 2 AD Sites

It will be same as Exchange 2013.


Exchange 2010 in the same AD site – Proxy





Exchange 2010 in the different AD site – Proxy





Exchange 2010 in the different AD site – Redirect




-Connectivity Flow in Exchange 2013 Co-existence with 2 AD Sites – same flow either Exchange 2013 or 2016 is the front end.

Exchange 2013 in the same AD site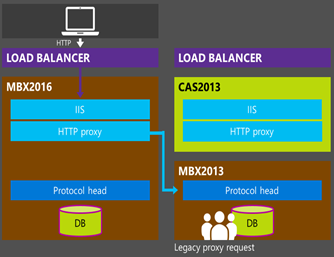 Exchange 2013 in the different AD site – Proxy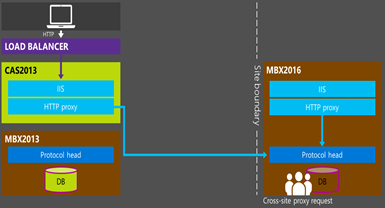 Exchange 2013 in the different AD site – Silent Redirect- Use Form based Authentication on both source and destination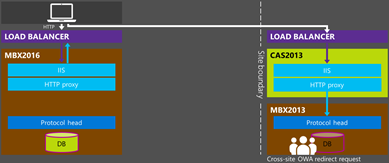 -Outlook Web Apps Server Connectivity Flow – Optional Server

Exchange will use discovery URL(similar to autodiscover url) to query Outlook Web Apps Server what are the file types it can view and edit

Outlook Web Apps Server replies table of supported file types like MSword, MSExcel, MSOneNote, etc

User opens email with attachment that matches one of the file types Outlook Web Apps Server supports and OWA requests document URLs for supported types

Exchange builds URL with Authentication token, app URL, and Attachment ID then reply it to OWA

User clicks attachment within Outlook Web App and responds an iframe to load the URL returned by Exchange

Outlook Web Apps Server pulls document content from Exchange

Outlook Web Apps Server renders content in Outlook Web Apps Server client

-Exchange Namespace

Microsoft has recommended to have separate namespace internalurl and externalurl for outlook anywhere and mapi/http so that separate authentication can be used for intranet

 (Kerberos) and internet (NTLM or Basic)

connection. But it is only useful when we have internalurl which in not available on Public DNS. I have explained namespace requirement here. http://msexchangeguru.com/2015/06/09/e2013_2010_2007-casurls/

Unbound namespace can be used to provide CAS connection high availability to avoid internet outage by configuring DNS round robin for 2 datacenter IPs for the same CAS URL which is same as Exchange 2013.

Exchange 2007 does not support unbound namespace in 2 AD sites but Exchange 2007 is out of picture now because Exchange 2013 can't be install in an ORG with Exchange 2007.


Unbound Model is a preferred model.

-Exchange Load Balancing

No Session affinity required at Load Balancer Layer because it is taken care by mailbox server hosting the mailbox

Ensure Load Balancer and Managed availability should be knowing what they are doing to each other. Healthcheck.htm is helping in identifying if protocol is up or down

It is recommended to use 2 Load balancer type Round Robin (mapi/http does not see any issue but RPC over http might have issue with long connections) or Least Connections (should use slow start feature). Preferred is Least connections with "slow start" feature

Single namespace Layer 7 is preferred (no session affinity) and recommended because one protocol will allow remaining protocols. SSL termination at LB would be required

If you need to use layer 4 then you should use multiple namespace. LB will not stop other protocol connections if one protocol fails. This will increase SAN names in the cert and its cost will go high. This is not recommended.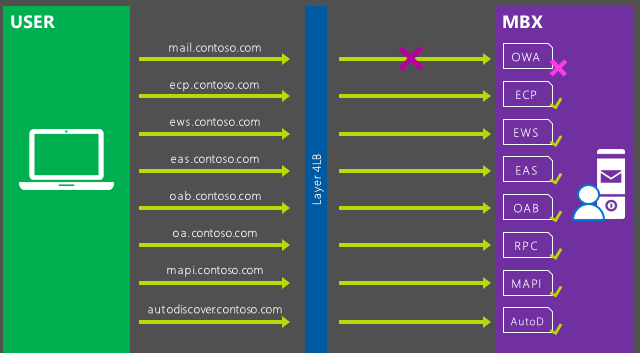 -Outlook Web App Server Namespace and Load Balancing

Deploy separate namespace

Follow a bound namespace model for site resilience

Load Balancer Persistence is required


Exchange will connect to the local AD site Outlook Web App Server

-Exchange 2016 Preferred Architecture

2 datacenters + 1 datacenter/azure should be used to deploy preferred architecture.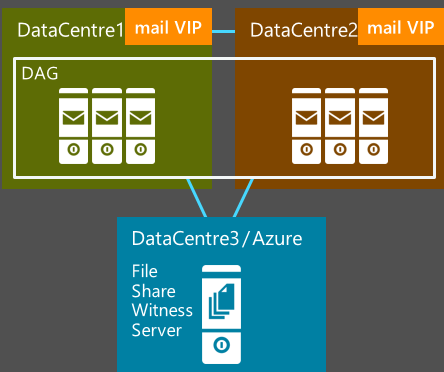 Namespace Design


For Exchange Single namespace for both datacenters should be used.


Autodiscover.domain.com

Mail.domain.com


For OWAS deploy 1 namespace per datacenter.


Load Balancer Configuration


For Exchange VIP: One VIP Layer 7 per datacenter with no session affinity and per protocol health check.

For OWAS VIP: Session Affinity


2 DNS host entries in the Public DNS for round robin connectivity and equally distribution of clients to both the datacenters.


DAG Design


Every datacenter should be a separate AD site so DAG should expended to 3 AD Sites

Don't stretch AD site because safety net keep shadow copy on a mailbox server in the 2nd AD site.

Unbound namespace

Symmetric DAG model with same number of servers in each datacenter and same number of database copies in each datacenter

Replication and Client connectivity through single network.


File share witness in the 3rd Datacenter/Azure


DAG Database Design


4 database copies, 2 in each datacenter

Distribute active copies to all DAG nodes

Passive datacenter with 1 lag copy(7 days) with automatic log play down

7 days safety net


Use Native Data Protection which will eliminate the need of 3rd party backup.


Server Design


Dual-socket systems only (Total 20-24 cores mid-range processors)

Up to 196GB of RAM (Memory)

JBOD Disks

Large size 7.2K SAS disks

Battery-backed cache controller must be deployed (75/25)


AutoReseed

with 1 or 2 hot spare

Data Volumes should be formatted with ReFS (Resilient File System)

Data Volumes should encrypted with BitLocker


Large Mailboxes


Keep archive mailbox in the same database as primary mailbox.

Increase knowledge worker productivity

Eliminate PST

Eliminate 3rd party archive solutions

Control OST size.


SMTP Design


Edge Transport or Exchange Online Protection should be used to send and receive the emails as front-end.

3rd party SMTP gateway can be used as 2nd option.

This blog ends here.
Feel free to watch here the Exchange 2016 Architecture session of Ross Smith IV's ignite session at channel 9 . You can also check his blog here

Exchange Server 2016: All You Need to know Part 1
Exchange Server 2016: All You Need to know Part 3
Microsoft MVP | Exchange Server

Team@MSExchangeGuru