Exchange 2013: Unable to Proxy ActiveSync – HTTP 400
After doing the cut over in a production of Exchange 2013 and Exchange 2007 multi AD site coexistence some of the users unable to proxy ActiveSync on their mobile devices.

Issue:

Some of the user reported that they are unable to connect to the exchange mailboxes after a cut over to Exchange 2013. Their mailboxes were in Exchange 2007 so Exchange 2013 was proxying.

The issue was with few users only

We ran EXRCA.com and we got the below error


HTTP 400 – Bad Request

Resolution:

After researching and reviewing some logs, we were very sure that this issue is coming because Kerberos token size is too big.

We verified the user and user had many groups membership.

After reviewing the reference link we created following registry key in Exchange 2007 and Exchange 2013 servers.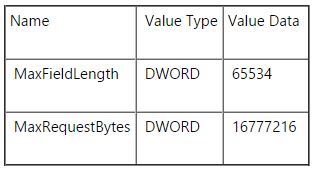 We have created max available value of 16MB for MaxRequestBytes

Restarted Exchange 2007 and then restarted Exchange 2013 servers.

Issue got fixed.

Reference: https://support.microsoft.com/en-us/kb/2020943

Reference 2: https://support.microsoft.com/en-us/kb/2988444
Microsoft MVP | Exchange Server

Team@MSExchangeGuru