Exchange 2016 on Windows 2016: Supported Now
On November 04 2016, we share the update here that we should not deploy Exchange 2016 because of the Issue identified in DAG implementation.

http://msexchangeguru.com/2016/11/04/e2016-on-w2016-no-deal-yet/

In Dec 2016, Microsoft released a fix KB3206632 and Exchange 2016 CU4 which has fixed the issue and now Exchange 2016 on Windows 2016 is supported.

We presented this slide during the December 2016 New York Exchange User Group.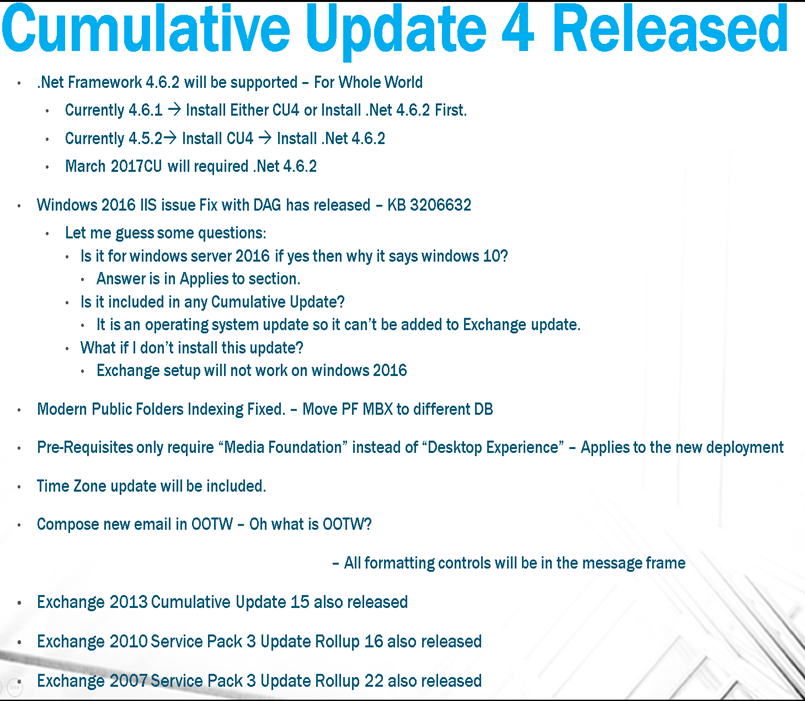 You can watch the recording here.

At Channel 9.

https://channel9.msdn.com/Blogs/MVP-Office-Servers-and-Services/NYExUG-Dec-2016-Meeting-Migrate-to-Exchange-2016-1st-session-on-CU4-worldwide

Or

At our You Tube Channel.

https://www.youtube.com/watch?v=a48sH4P3vUU

———-

So, we need to do the following:

Install KB3206632

Restart the server

Install Exchange 2016 Cumulative Update 4.

More update can be found on MS Exchange Team blog here. https://blogs.technet.microsoft.com/exchange/2016/12/13/released-december-2016-quarterly-exchange-updates/

CTO @ Golden Five

Team@MSExchangeGuru