Global Azure Bootcamp 2018: Hollywood
The Global Azure Bootcamp is a free one-day global event driven by Microsoft MVPs/RDs, Cloud experts, Evangelist, and Community Leaders. The sessions will help both new learners and experienced professionals in learning new things about the Microsoft cloud.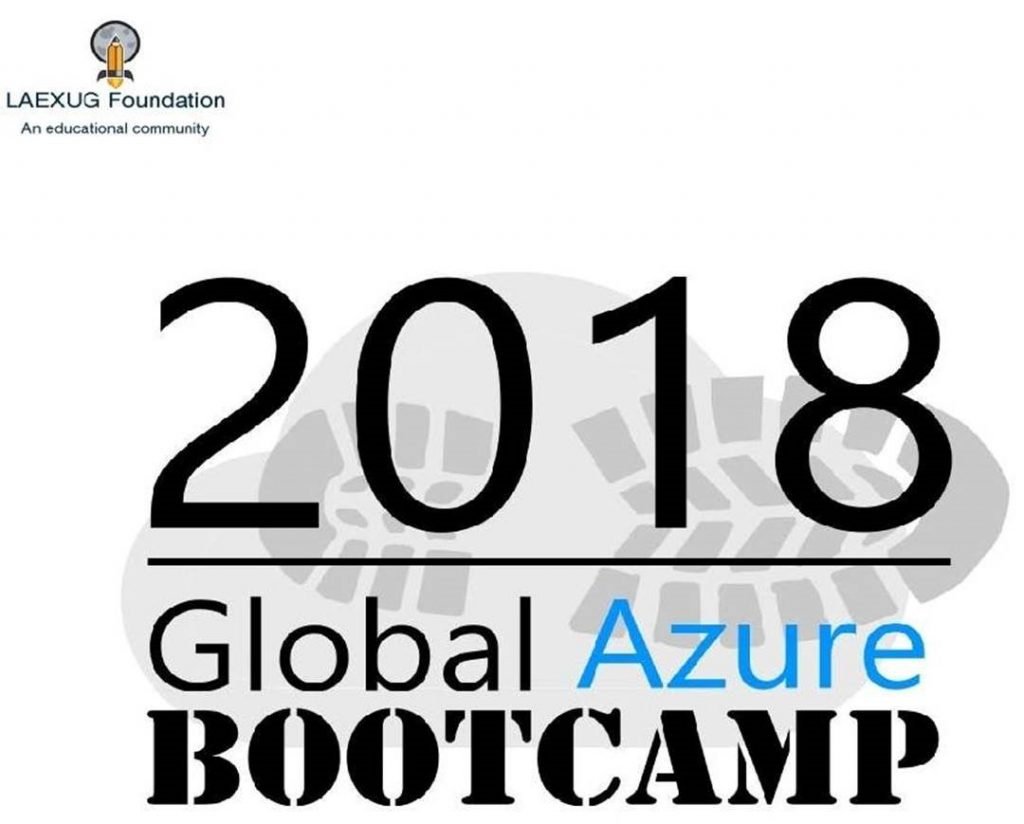 This is LAEXUG Foundation is hosting this event in Hollywood at the Microsoft Playa Vista office. We are always thankful to Microsoft for sponsoring the location.

The Global Azure Bootcamp is growing every year. This year around 250 cities participating in this Global event which will run for almost 30 hours. We will have deep dive expert sessions by Microsoft cloud experts which will help you become stronger in your career.


We are excited to be part of this global event and invite you to join us. Come and be part of this Global event. The conference will open for the registration at 9:00 AM. We will have our 1st session at 9:30 AM and sessions will continue until 4:30 PM.

We have plenty of food and drinks available for you.

We welcome all the attendees with volunteers, sponsors, and speakers.

If you are interested in presenting or volunteering then please reach out to GAB@LAEXUGFoundation.org with the following details:

Name:

Topic:

Session briefing:

Your Bio, Photo, and credential links:

RSVP here (only 120 seats): https://www.meetup.com/LAExUG/events/243872998/

More Information:

Global Azure Bootcamp 2018 (Hollywood) | Global Azure Bootcamp | Magnus Blog | Microsoft Team | Facebook

Event Location:

Microsoft (The Reserves)

13031 W Jefferson Blvd, Suite 200 · Playa Vista, California

Share this event on Facebook, Twitter, Linkedin and other social networks. We hope to see you at the GAB Hollywood 2018.

Parking:

Parking charges after ticket Validation will be $10. At this time, we are welcoming submissions from the speakers and sponsors for this event.

---
Agenda:
Speakers:
Prabhat Nigam
CEO LAEXUG Foundation | CTO Golden Five Consulting
Prabhat is 3 times Microsoft MVP Award winner. He is MBA in Information Technology and he has been working as a Microsoft Architect where he helps in designing, implementing, managing and supporting solutions for private messaging cloud, mergers, collaboration between different messaging software and other migration & deployment projects for the following Technologies Office 365, Azure, AWS, Exchange, SQL, ADFS, MFA, FIM, MIM and Directory services. He has worked for all big IT giants either as an employee or contractor where he has led the Global teams. He has started his career as Technical Consultant in Exchange 5.5 with Microsoft PSS and his exchange love never stopped & continued with 2000/2003/2007/2010/2013/2016/O365. At one point in time, he was the only person to support EDS customers when Microsoft had closed all the supports for 5.5 and now for all old legacy Exchange versions.
He blogs at MSExchangeGuru.com. He manages multiple LinkedIn and Facebook Groups. He also Owns MSExchnageGuru YouTube channel where he uploads all his records technical sessions. Don't forget to check his PowerShell scripts which are making admins life easier.
He currently works as CTO of Golden Five Consulting (Microsoft Tier1 Cloud Solutions Provider and Silver Partner) in Los Angeles USA.
He is also the CEO of LAEXUG Foundation (a non-profit for free education in LA) which runs Office 365, Exchange, Cloud and Infra user group in Microsoft Los Angeles office.
Prabhat also speaks at various conferences.
He can be reached at prabhat.nigam@GoldenFive.net and he will be glad to do a free assessment of your requirement.
Heather Newman
Content Panda
Heather is a Microsoft MVP for Office Servers and Services. She is also an award-winning senior marketing professional that thrives in both startups and established corporations. She is an adept storyteller and is passionate about growth for both employees and the corporate bottom-line. Heather is the Chief Evangelist and CMO of Content Panda, a high tech business dedicated to creating products that deliver a superior user experience that drive value to businesses. Content Panda's family of products deliver an in-context help, training and support experience in the user interface–right where and when users need it. She is also the founder and CEO of Creative Maven, a virtual marketing consulting firm that brings c-level strategy, inspiration and creativity into marketing teams and to marketing professionals. Heather lives in California and enjoys traveling the world speaking about SharePoint and Women in Technology. You can follow her travels and writing on Twitter & Instagram – @heddanewman and as a featured writer in inspiration and self-improvement on Medium.com.
heather.newman@contentpanda.com
Twitter
LinkedIn
Blog
Company Website
Rushabh Mehta
CEO Matchbook Services
As Founder and CEO of Matchbook Services, Rushabh leads software architecture, product development and management, as well as customer enablement. Rushabh has an entrepreneurial spirit and passion for finding new ways to solve complex business challenges. Rushabh was a community leader to the Microsoft Data Platform community for a number of years and also served as President of The Professional Association for SQL Server. He was also a Microsoft Data Platform MVP for 11 years. He is passionate about finding ways to enable customers to unlock the potential of their data assets.
LinkedIn: https://www.linkedin.com/in/rushabhbmehta/
Twitter: @rushabhmehta
Email: rmehta@matchbookservices.com
Alex Terentiev
Sharepointalist Inc.
Alex has been working with SharePoint for the last 10 years, focusing on building custom SharePoint/Office 365 solutions. He is leading development of various SharePoint products, being used by hundreds of companies all over the world. Having very strong background in front-end development, he is riding the modern web development wave and helping community with learning latest development techniques. Alex is a regular contributor to SharePoint/Office Dev Patterns and Practices and presenter during Office Dev PnP Community calls. Awarded with 1st prize award during invite-only SharePoint Dev Kitchen March 2017 event by Microsoft SharePoint Product Team. 2017 European SharePoint Community Award Finalist.
aleksei.terentiev@sharepointalist.com
Twitter
LinkedIn
Blog
Company Website
Session Details:
One Card at a Time – Leverage Office 365 Planner to Plan your SharePoint End User Adoption
Details:
Looking for a highly visual way to organize teamwork, plans, tasks, files and even chat about them? Look no further than Office 365 Planner, which offers people a simple and highly visual way to organize teamwork. Planner can be used to manage a marketing event, brainstorm new product ideas, track a school project, prepare for a customer visit, or organize your team more effectively. Join Heather Newman, Co-Founder, Chief Evangelist and Chief Marketing Officer of Content Panda, as she uses a real-world use case to provide you with the steps to create an end user adoption campaign inside Office 365 Planner leveraging her 10 step End User Adoption checklist for Office 365 and SharePoint. You'll leave this session with a clear understanding of how to use the tool for your teams, tips on how to best organize a large, multi-leveled campaign and a template that she will share post-session.
Password Reset: High call Volume – Pain
Details:
Password reset for the end users is a pain of every org, but in today's era, there are multiple self-password reset tools available at an easy cost. At the same time, Microsoft recently launched "Azure Password Write Back" and we will see how it can be a help.
SharePoint Online Developer's Toolset
Details:
The session describes a place of SharePoint in Modern Office 365 and Microsoft ecosystem. It provides a high-level overview of the building blocks that are available for a developer in SharePoint Online.
Golden Five Timesheet App Demo
Details:
In this session, I will share how we created out Timesheet app for free within Office 365 and Azure AD. The session shows Office 365 has no limits.
Leveraging SQL as a service – Azure
Details:
In this demo-filled presentation, we will see how we can easily start harnessing the power of SQL as a service. We will cover a wide range of topics from getting started to security, features and scale as well as discuss some limitations.
CTO @ Golden Five

Team@MSExchangeGuru