Exchange database repair – The eseutil /p process
Recently, a reader of the website came to me with a question- "You explained in detail on how to perform various operations to recover data from an exchange database "which is great". But, what exactly repair (eseutil /p) processes do?    

Exchange Database Recovery – Using eseutil commands: http://msexchangeguru.com/2009/07/12/exchange-database-recovery-using-eseutil-commands/

Well first I thought of just answering his questions and then got a second thought on why not write an article with what I know about ESEUTIL and the repair process? So, here we go.

Believe me guys, if you are an Exchange pro, you got to spend some time reading an understanding this article.

ESEUTIL, ESEUTIL and ESEUTIL!!!

I interviewed a candidate recently, "What is eseutil" he started off by explaining the eseutil commands and different switches. Well, that aint my question… My question was, "What is eseutil"?

Well, my answer would be "ESEUTIL.exe or the Exchange Storage Engine Utility is an executable file residing in the bin directory which is used to perform various operations like recovery, repair, integrity check on an Exchange database while it is offline".

I would like to stress on "while it is offline" because a database will be locked by the store.exe process when it is mounted/online. Therefore, to run eseutil on a database, the database should be taken offline. Eseutil can only be used on one database at a time.

The file's which backs eseutil.exe to perform various operations are Ese.dll, jcb.dll, and Exchmem.dll. These files reside in the bin directory too. This means that if you need to run eseutil on a database all you need is these 4 files and it will work fine even on an XP machine.

The Repair process

Question: When do we end up having to repair an exchange database?

Answer: Your database is in a dirty shutdown state and the required log files are missing.

To get an overview about transaction log files and the process in which they commit to the database, refer:

The Operative synopsis of Exchange database and ESE: http://msexchangeguru.com/2011/02/26/ese/

When you database is in a "dirty shutdown", it will look like this when you dump the database using the eseutil /mh command: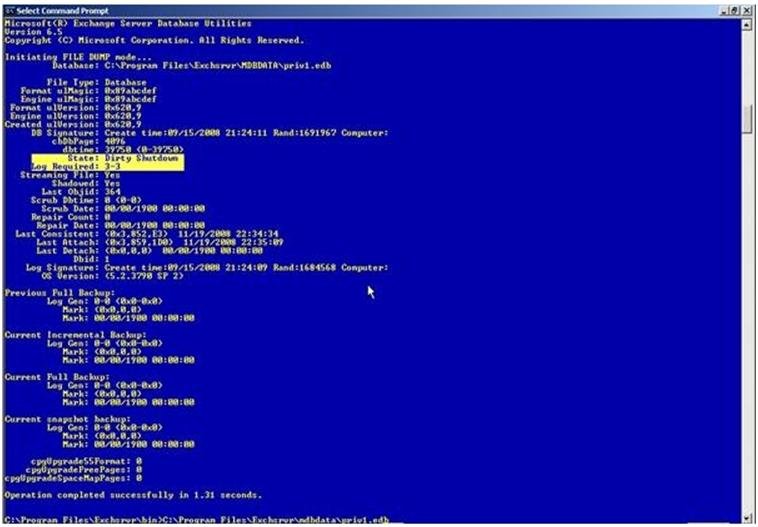 So, long story short à your database is missing some log files and there is no way we can create in manually. At this point, if you don't have a backup, you need to repair the database to get it to a "clean shutdown" state so that you can mount it and retrieve data.

Repairing databases involves the following three stages, in this order:

########################################################################
Run Eseutil in /P mode to perform a database page-level and table-level repair.

Run Eseutil in /D mode to fully rebuild indexes and defragment the database. eseutil /d does is removes empty pages in the database file and rebuilds its indices

Run Isinteg only on the database to repair the database at the application level and fix the logical corruption of the database.
########################################################################
Before proceeding, look at the figure below:

I mentioned before that the exchange database structure is called "B-tree structure". The B-tree structure consists of pages, rows, tables etc. The repair process could discards rows from tables or even entire tables based on how "bad shaped" the database is right now. After completing the ESE-level repairs, it is necessary to perform an application-level repair to correct problems that may now exist at the application level because of missing data. Use Isinteg or "Information store integrity checker" to perform this application-level analysis and repair on databases. The following example illustrates how the repair mode in Eseutil works.

For example, a table in the database stores messages for all mailboxes. A separate table is used for each user's Inbox folder. Suppose that a message is lost when using Eseutil to repair the message table. Eseutil does not correlate the message with the reference to it in each Inbox folder because Eseutil does not have the information about the cross-table schema of the application. Isinteg is needed to compare the repaired message table with each Inbox to remove a lost message from the Inbox folder.

Eseutil looks at each Exchange database page and table and ensures consistency and integrity within each table. Isinteg repairs a database at the application level and ensures the integrity of the relationships between tables.

So, what did you understand?

Let's study the figure together.

Fig1:

This shows the current state the database is in right now. You can see there are several corrupted pages and link broken between rows and tables.

Fig2:

This shows the state of the database after running the repair process (eseutil /p). As you can see, the process got rid of the corrupt pages, rows from tables or an entire table and filled the spaces with empty space called White spaces.

Fig3:

Here we ran eseutil /d, the offline defragmentation process to reduce the physical size of the database and fully rebuild indexes. This process removes empty pages (white spaces) in the database file and rebuilds its indices.

Fig4:

If you look at the figure you can see I have mentioned "Physical numbering" and "Logical numbering". It is pretty self explanatory. When there is a 5MB JPEG image stored in a users inbox, it is not stored as a "5MB file inside the database". Rather, this file is spilt and allocated spaces within the database and there are pointers to the location of the file. Well, did you ever have an issue where you opened an email message and entire body was filled with "garbled" images? Yeah… these pointers would have got misplaced somehow.

When the offline defrag process ran, it got rid of the white spaces in the database and full rebuild the indices. This leaved the database in a situation where 3 should point to 3, but 3 is now pointing to 7. Look at the figure closely one more time. I am talking about the Physical number" and "Logical number". ISINTEG basically fixes this.

So now you know what happens when an exchange database is "repaired". The process is lot time consuming and runs @ 4-5 GB/hr. Again, if you have proper backup in place you will never end up doing a repair of you exchange database.

Ratish Nair
MVP Exchange
Team@ MSExchangeGuru
Keywords: Exchange database repair, eseutil /p, what does repair on database do, Repairing exchange database, eseutil for exchange database