Mystery of vanishing outlook meeting requests – SOLVED!!!
Where's my meeting? Oh yeah… I've heard this scream a 1000 times… For a user, it's an easy question to ask but what could cause this?

I have worked on similar issues and did some extensive research and 99% times it is not exchange doing it. It could either be:

Mobile device – iPhone or BB


80% users reporting issues will have Delegates


The user finger tapped (Wait a moment – He is not gonna agree "just like that" so keep reading till the end)

Now the alarm goes off only post "An important meeting vanished" and the problem starts here. So we call it "INTERMITTENT".

Maybe you are looking at this article after this happened, if yes let me tell you my friend this is not an article to find out the root cause or troubleshoot the issue "after it happened", but to explain how to align your existing setup with all best practices and find out what/who did it if it happened again.

Before looking at troubleshooting this issue, you need to read and implement these best practices or we will be "Going in Circles"…


Microsoft Outlook is undeniably the best feature rich application blending your online and offline transitions perfectly with its proficient capabilities on all your emails, contacts, calendar and meetings.

Best practices on how to manage delegate access in Outlook

To begin with, Microsoft Outlook gives you incredible capabilities, and one of these is your delegate access. A little confusing right, delegate and all, huh? To make it easy, it's like having someone to create and manage your meetings, on your behalf. This person, who does it, is called as a delegate, meaning, you are delegating your tasks. Now when you have someone, to do that, you got to set the level of privileges as well for it, which you accomplish by the below levels.

Now when you assign some delegate as an Editor, you are giving him/her, the privileges of creating meeting requests, sending meeting requests, editing and deleting meeting requests as well. In addition, he/she can also be given access to receive mails pertaining the meetings, PRIVATE ITEMS and also accept and reject meetings on your behalf.

You could also assign a delegate as an Author, giving him/her the privileges of creating meeting requests and reading through your Calendar, PRIVATE ITEMS but he/she cannot modify or delete meeting requests. They can be given access to receive mails pertaining the meetings however.

You could also assign a delegate as a Reviewer who can view your calendar and PRIVATE ITEMS but cannot do any edits on it.

You can add your delegate by going to the Calendar pane, then going to File and under Account settings, select Delegate Access.

You get something as below and herein, you add your delegate.


You are all set with adding a delegate but now how do you give them the priviliges? Now once you add a delegate, you would immediately be asked as to which kind of a delegate is he/she as shown below.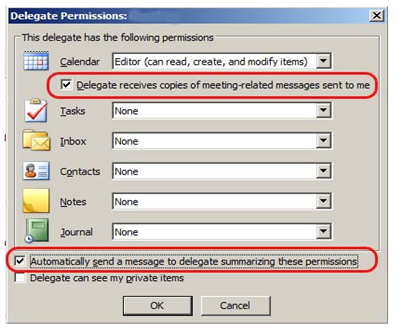 This is all the necessary basics that you should know to understand delegate functionality. The following are the best practices that you can use for managing delegate access in Outlook.

NUMBER OF DELEGATES: Now ideally it is always advisable that you don't have multiple delegates as it leads to lot of confusions, duplicities and inconsistencies.

OUTLOOK VERSION: The Outlook version on the manager and the delegate/delegates should be the same.


PATCH LEVEL: At the patch level, Outlook 2007 calls for service pack2, Outlook 2010 calls for Penn for Windows users and Entourage 2008 for MAC users.


RECEIVING EMAILS: The mail should go only to the inbox of the manager, as in, on Exchange server only and not elsewhere like a PST file.


MOBILE DEVICES: Manager can have one/more handheld devices, but try to avoid accepting and updating meeting through mobile devices. Chance's of corruption significantly increases if you do so. A delegate should not try to manage manager's calendar using a mobile device. This functionality is not available by design, but there are some third party solutions available and this should not be tried.


DELEGATE PERMISSIONS: It is always advisable that, just incase you are using more than one delegate; you assign only one delegate as an Editor.


NOTE: It is always ideal to avoid confusions, as to who would respond to the meeting requests, either the manager or the delegate (Editor). Mostly it is apt, if the Editor does it, as the manager could be travelling.


DL EDITS: It is good if you do not add or remove recipients from a DL whilst sending meeting requests as it leads to confusions and inconsistencies, at times it also results in some recipients not receiving prospective meeting requests as well. If at all you wish to add someone, do that in the TO field rather.


AUTO ACCEPTING REQUESTS: It is always best to turn off this feature. The delegate should turn of this feature, if he/she is responsible for responding to the manager's request as it leads to issues in delegate workflows. Go to Tools | Options | Preferences | Email Options | Tracking Options, and make sure that the checkbox "Process requests and responses on arrival" is unchecked for the manager.


MAIL SYNCHRONISATION: On a normal scenario, it is good if you sync your outlook with a consistent mail synchronisation tool to avoid missing items. This means, if you acknowledge or read a meeting request through, one client, don't try editing it in another. To make it simpler, if you have addressed a meeting request in the office using Windows, do not try editing it using your personal MAC.


RECURRING ITEMS: It is best that you avoid the lags involved in recurring items. The recurring item will be taking place on its usual schedule, once you postpone it further; this causes a change in it. Now this change to the recurrence meeting will be an attachment and thus, an update has to be sent for this. The lesser the updates, lesser probabilities of errors.


RESPONSE: It is always good if the manager responds to the meeting requests from his inbox as this will make less chance so for the delegate to miss the manager's updates.


EDITION ACCOUNTABILITY: If a meeting request, sent already, needs to be edited, it is ideal, if the manager/delegate, whoever created it, does it, to avoid discrepancies.


OFFLINE MANAGER ACCOUNTABILITY: If the manager is going to be using Outlook, offline, he should ensure that he syncs it before and after making changes, as else they reflect partially, leading to missing items and duplicate items for both, the delegate and the manager as well.

Troubleshooting Missing calendar appointments:

Pre-requisites

A manager who reported issue who also has delegates


Availability for manager and delegate to troubleshoot the issue when required


Ensure that manager/delegate both have read and understood the document "Best Practices while delegating access in Outlook"

Data collection

Account name for Manager and delegates. It is important to note if we have a primary delegate and a backup delegate


Number of computers running Outlook for manager. Note the version on each one.


Number of computers running Outlook for each delegate. Note the version on each one.


Number of mobile devices manager use for corporate email. Run the cmdlet:


Get-ActiveSyncDeviceStatistics –Mailbox "Alias"


Blackberry if any. Check this in Blackberry Enterprise server console


Are delegates managing manger's calendar though their mobile device


Are all conditions met as per "

Best practices on how to manage delegate access in Outlook

(look above)

Troubleshooting

This issue is not reproducible, so we need to first have the manager and delegates reset their settings to default. Educate them that this could be an issue on the server or could be as simple as your delegate deleted it by mistake. We don't know that yet.


On all machines used by the managers, open Outlook, navigate to Tools

–>

Options–>

Delegates and ensure we only have the necessary/known delegates added to the list


Run Outlook reset switches


Oulook /Cleanfreebusy


Oulook /Cleanreminders


Oulook /Cleanviews


Oulook /Cleanprofile


Delete the OST file on managers and delegates machines and let the mailbox re-download from the server


Delete Outlook profile and re-configure


Delete profile from all Exchange ActiveSync mobile devices including Blackberry Server


Check and see how many EAS profiles the manager has and remove partnership of all invalid ones from the server


Move delegate mailbox to managers mailbox database (not imp)


Make sure your CAS Servers, mailbox servers and Blackberry servers has the latest updated patches/Roll ups from Microsoft

No go??? Enable tracing and Escalate….
NOTE: I would personally recommend you have a Microsoft support engineer on call before proceeding because these steps since enabling tracing and could cause issues if you don't enable it properly.
The location specified for the trace target might get filled up pretty easily, so have a plan with your backup team to have it backed up or so.

Exchange 2007 comes in built with ExTRA which helps you trace activities that occur in the store or database

Open cmd prompt as admin and type ExTra to open it "or"


Start –> Run –> ExTra

This will open the Exchange Troubleshooting Assistant

Now Select a new task and click next and select "Trace control". This will throw an error "This server does not have the module needed for interpreting traces. Continue only if this is being done under the direct supervision of a qualified Exchange support engineer."


On the "Configure Trace File" page, configure the location of the trace

DO NOT enable "circular logging" and select "Create a new file when max trace file size is reached"

Under "select the type of tracing needed" select the option "Set Trace Tags Manually"

Select Trace Types – PFD, Fatal, Error, Warning, Info, Debug, Performance, Function

Under 'Components to Trace' – Select "Store"

Select 'Trace Tags' –
tagCalendarChange
tagCalendarDelete – This tag is going to capture all calendar deletions
tagMtgMessageChange
tagMtgMessageDelete

If you want to enable tracing for just one sure, do so using "Show mailbox trace filtering options" and select the user

Now click "Start Tracing"

The next time the user reports the issue, you will have the "*.etl" file with details on who/what deleted it


Contact Microsoft PSS support and document all these steps you did and present them with the etl file


With tracing enabled, all transactions on the manager's mailbox will be logged including the "INTERMITTENT" "MYSTERY" "VANISHING" meeting request


Let Microsoft PSS can analyze the output file and see what deleted the calendar item
Yes, stopping the trace is equally important if you dont want it anymore. Refer KB971878 to stop the tracing

This is what I saw onetime analyzing the output once:

Component

TAG 

Message

Store

tagCalendarDelete

StartTrace GUID=A5562537-0D46-4B47-8719-D878DFB47G3G Time:7/7/2011 6:21:44 PM

Store

tagCalendarDelete

  TGuid=A5562537-0D46-4B47-8719-D878DFB47G3G PR_SUBJECT(,,0x006753SD) FW: IMP – Review pending issues

Store

tagCalendarDelete

TGuid=A5329537-0F57-4B47-9713-D939DFB47F3F SzApplicationId=Client=ActiveSync;UserAgent=

Apple-iPhone3C1/802.117;Action=User=USERNAME&DeviceId=Appl83134C6YB3F&

DeviceType=iPhone&Cmd=Sync
This means that the calendar item with the subject "FW: IMP – Review pending issues" was deleted at "7/7/2011 6:21:44PM" by the user "Action=User=USERNAME" on the device
"Apple-iPhone3C1/802.117" with the DeviceID "Appl83134C6YB3F".

Looks interesting, right?

Before putting the blame on the user, ask the Microsoft engineer to see if he can see more of similar deletions (there shouldn't be any). Once you ensure there are no more deletions reported on the log:

Check to see if the user has an updated Operating system on his mobile device


Educate the user that he could have deleted it accidentally as per the log


As a best practice, have the user reset his device to factory settings and re-configure the email App

If its an Outlook profile which did it, depending upon which profile have the user delete the OST file

How to prove "It's not Exchange's fault"

Exchange 2010 has Calendar Repair Assistants which could overcome issues caused by system, but what if the user/delegate deleted it?

Well, we can't just wait for the alarm to go off and then think of implementing these changes. So, have a meeting with your management and have this practice in place already:

Make a list of all top executives in the company with or without delegates


Select 3 mailbox databases on servers with high availability and database copies


Collate all top executive's mailbox on these 3 databases and permanently enable tracing for them

By implementing this, we already have the logs ready for Microsoft to analyze the next time your CEO shouts," Where the heck did my meeting vanish"?
Ratish Nair
MVP Exchange
Team @MSExchangeGuru
Keywords: Missing calendar appointments, Exchange server calendar vanishing, Exchange 2007 calendar issues, exchange server calendar deleted, appointments got deleted, delegate issues with outlook, calendar issues with Exchange, how to troubleshoot missing calendar appointments