Exchange 2013: Enable In-Place eDiscovery and In-Place Hold
Microsoft is taking every step to improve exchange server security related challenges. With Exchange 2013, Microsoft have taken compliance features like eDiscovery and hold to the next level.
Let's take a look at how to enable the feature and work with it.

Open Exchange management shell

Run the cmd to check the current status of the litigation hold

Get-mailbox –identity alias | FL *hold*


You will see the below window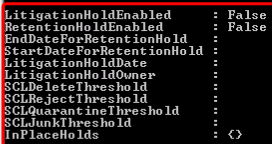 Open Exchange Admin Center and login with at least Compliance Administrator.

Click on Compliance management

Click + to add a new in-place discovery & hold

Type a name then click next.

On the next window click + to add the user, then add the users on which you would like to apply discovery and hold. Click add then ok.

Click next

You might like to select some options here or run discovery against whole mailbox

Also review the select message types

Click ok then next

On new in-place discovery & hold page either select "hold indefinitely" or specify number of days

Then click finish

You will see below message when hold will be created.

Now click on the refresh sign to check the discovery search results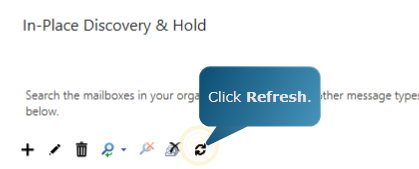 You will see the below result

Click on view Statistics to see more detailed result

Click zoom glass and select Preview search results

Now login with the compliance officer id and check the discover search results

Go back to the exchange management shell and run the following cmd to check the hold

Now you will see the in-place hold guid will show up here

Run the following cmds to check the in-place hold configurations

$user = Get-mail – id username

Get-mailboxsearch –InPlaceHoldIdentity $user.inplaceholds

You will see the below configuration items will show up.


Prabhat Nigam

Team @MSExchangeGuru