Export a certificate from Exchange 2007/2010 and Import in Exchange 2013
Some time back someone asked me how to Export a certificate from Exchange 2007/2010 and Import in Exchange 2013. So here you go…
Export the CERT

To export the certificate from Exchange 2007 follow the below steps
Login to the exchange 2007 server
Go to run and type mmc
In MMC click file and select add/remove snap-in
Select Certificates then Computer account
Select Local Computer

Click ok then ok.

Now you will see certificate mmc
Select Personal then certificates and select your cert
Right click the certificate  to export then select all tasks and Export

Click next on the welcome screen

Select "Yes, export the private key" then click next
On the format page, make sure PFX is selected

On the password screen type a password and confirm it then click next

Give a locate to export the certificate then click next
On the summary page click finish and certificate will be exported.
To export the certificate from Exchange 2010 follow the below steps

1. Open EMC
2. Go to Server Configuration


3. Select the server which has working certificate
4. In the right lower pane you will see the certificate.
5. Right click the certificate and select "Export Exchange Certificate".


6. Browse a location, select pfx format and give password to the export file and click Export.

You will see this screen when export will finish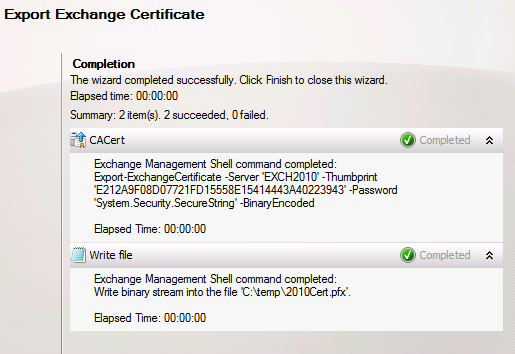 Copy the CERT
Now copy the certificate to Exchange 2013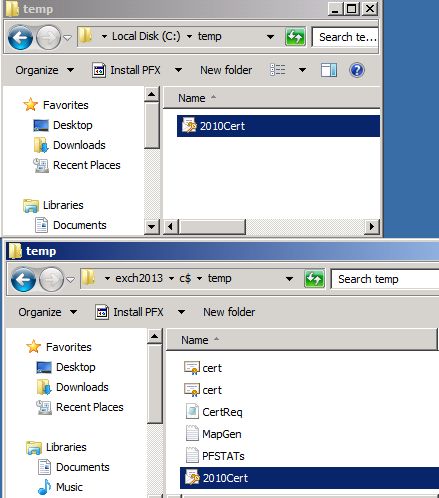 Import the CERT

To Import a certificate in Exchange 2013 follow the below steps
1. Open EAC
2. Go to Server –> Certificates

3. Select your Exchange 2013 server


4. Click on … and select "Import Exchange certificate"

5. Give the location and password of the certificate. Then click next.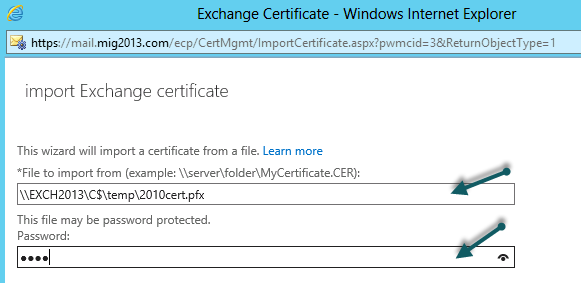 6. Select the server. Click on + sign then select the server and click add then click ok, then click Finish.

7. Now, the most important step is to see if your certificate is valid, see the screen below: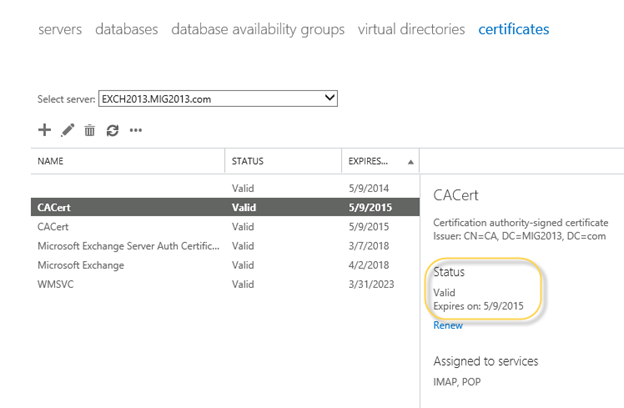 8. One certificate is install you can assign the services except SMTP because SMTP will use self sign certificate.

Select the cert, click on pen shape icon, click on services and select IIS then click on save.

9. You would need to reset IIS to make a proper use of this certificate.

This will assign new certificate to IIS. You can login to test the cert.

Prabhat Nigam

Microsoft MVP | Exchange Server
Team @MSExchangeGuru