Journey to Office 365 – Emails in cloud!!!
It's been nearly two years since I wrote the blog "Where Cloud is heading". And since then I am sure all of us have been witnessing some phenomenal technology advancements in cloud. The future looks all set and geared only in "cloud".

Organizations of all sizes are aggressively marching towards the phase of either "being in cloud" or "getting there in cloud". The prime drive being to be more agile, efficient, cost effective and responsive to business needs.

Email is the most significant form of communication used by enterprises to function globally in all time-zones. Having said that, email infrastructure management is identified and accepted as one of the business critical application unanimously. More than 80% organizations will vouch for Microsoft Exchange to run their emails.

In this blog, we will be highlighting some aspects that organizations should consider for getting emails in cloud and how Office365 facilitates that.

Technology isn't just about building applications, but more about the user experience felt. With every version of Exchange, Microsoft has been focusing to work on the areas that were getting highlighted as pain points by subject matter experts and admins. With Exchange 2010 and 2013, the efforts went notches up and the user community has applauded the changes introduced.


Email has often been associated with a huge corporate stress on governance, compliance, risk and archival, indicating the line of security and availability email demands for business. The world looks all set in cloud, so are we ready to get our corporate emails in cloud?

Well with O365, we are ready!! Inspite of the active melodramatic debates around – emails and data "being/not being" safe in cloud, we need to look around why some big G200 organizations are ramping up their emails in cloud too. Working with various enterprise clients, our experience has been so far that every organization has different priorities depending on its size and industry vertical. However, one thing that all want is 100% uptime for their messaging infrastructure. The key fact that emerges out is that we are progressing towards the cloud world where "as-a-service" means speed, agility, transparency, user experience and cost effectiveness. This blog will focus only on email aspect of Office 365.

An Increasing Cloudiness….

Enterprises are getting their email infrastructure transitioned to cloud, but the transition isn't often easy and can get challenging at different layers with increasing complexity. So before embarking on your journey in getting email infrastructure on cloud, we recommend a comprehensive assessment and readiness. There are various players out there who claim different capabilities but the foremost essential step for an organization is to understand their cloud strategy and expectations from it. It is of utmost significance to think about some key factors listed below:

Is the provider having an open extensible platform/architecture?

What are the service level agreement and management criterions?

Understand what are the "maximum send and receive" limits for the entire organization?

What is the digital archiving and disaster recovery strategy offered by the provider?

How will the provider perform maintenance and upgrades?

What are your operational costs covering software, applications etc?

How far does it make a financial business sense – both in present and future?

How securely certified in cloud the provider is?

How scalable is the providers stack?

What is the product roadmap?

The exit plan

Microsoft's vision has been crystal clear -> best user experience + cloud on your terms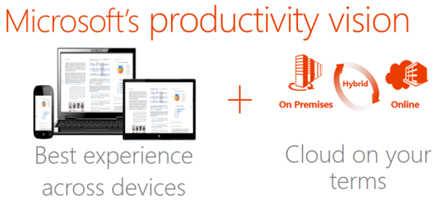 O365 not just enables service orchestration but also end-to-end management, automation, elasticity with agility.

Office 365 from Exchange perspective addresses Exchange Online for email, mobile access, calendar, contacts, anti-virus, and anti-spam.

Some interesting aspects that get addressed to get emails in Cloud…

A million dollar question: so "is my data encrypted and where does my data reside?"



This question is a very significant as it helps organizations to visualize the real scenario. Office365 encrypts data using BitLocker Advanced Encryption Standard (AES) encryption on all mailboxes, indexes, logs. Also, client-side, third-party encryption solutions such as Pretty Good Privacy (PGP) is used for mail transfer and storage. Additionally, users are empowered to exercise Rights Management Service (RMS) for specific items they might desire to encrypt with "who can receive, see and access rights".


So the next part of the question- where does my data reside?- this is a question that calls great level of facts..lets understand them all..


Office 365 data resides in Microsoft's DataCenters (DC) tactically present globally.

The DCs are monitored vigorously with security personnel with multiple security badges, authentications, biometric scanners, video surveillance and two-factor authentication.

DCs are monitored using motion sensors, breach alarms and video surveillance

Cool factor: In case of calamities and natural disasters, it has seismically braced racks where required and automated fire prevention and extinguishing systems


Data Segregation: with Office365 being used with a huge client base, one can often wonder if there are chances that data can get mixed up or experience performance issues. Office365 is a multi-tenant service which can host multiple tenants individually and securely thru data segregation and isolation. Active Directory segregates customers using "silos" preventing two co-tenants to access each other' data. Organizations also have the option of leveraging a dedicated hardware for additional cost.

A rich outlook functionality enables a seamless user experience with many right-click options

A very robust calendaring and scheduling function: this also has a trendy drop down reminder approach that facilitates user ease with a very refreshing multi calendar approach too. Embedding attachments in appointments is far more sophisticated in Office 365

Spam Filtering and Malware detection: Office 365 uses multi-engine antimalware scanning to scan incoming, outgoing mails from malware. It associates the incoming/outgoing data with a Spam Confidence Level (SCL) value wherein, low SCL values are ok to get thru and high SCL values are blocked/deleted at gateway, borderline SCL values go to junk folder and get deleted automatically in 30days. To protect malware thru IM, Office 365 uses intelligent instant message filter (IIMF- Microsoft's IP)

A major aspect that gets considered for getting corporate emails in cloud is security.

Security wise:

FISMA (Federal Information Security Management Act) Certified

ISO 27001: Built on standards of ISO27001

HIPAA and EU Model clauses on data governance

Single sign-on

Two factor authentication (http://msexchangeguru.com/2013/04/19/dual-factor-auth/)

Role Based Access Control

Cloud Security Alliance criterions are full-filled

To sum up, we don't say nor do we intend to sound trivialized towards significance of security in cloud. With conformance to so many credentials and standards, O365 needs no more backing up on security front.

Towards the end of the article, we are again at the cross roads of the same question- will cloud based email kill on-premise exchange? Ofcourse there will be few disparities between hosted and online Exchange, but Office365 offers close to 85% of hosted Exchange.

Change is good, and when it is with added benefits it gets even better. We don't say that on-premise exchange will be killed, but emails in cloud will gain prominence soon. If Confidentiality, Integrity and Availability can be taken care, we are indeed ready to get corporate emails in cloud with Office365.

Every company makes decisions based on Strategy, planning and foreseeing future possibilities coupled with opportunities – Microsoft did nothing different. It is subjective as to what "we think" being Exchange professionals. End of the day all that matters is where technology is heading and how effectively we can place our skills and mutually coexist.

Regards,

Anita Raj
Technology Evangelist
Team @MSExchangeGuru