Living in a BIG analytical world..
The ever changing dynamics of technology and global economy have always brought about interesting focus areas for enterprise to build/edit their business strategies upon. Some key focus areas have predominantly been – rebalancing with uncertainties in economic outlook, increasing productivity with less labor and viable value creation. The world has indeed become a much, much smaller place with amplified interconnectedness between trade, market and technology.
Big Data and Analytics have been splashed all across the Internet. It is certainly at the forefront of all enterprises' strategy. Though we talk openly about tapping benefits in cloud, we also must be sensitive to the fact that enterprises are being besieged with loads of data. Gartner also predicts that by 2020, huge amount of data will be coming from wearable devices too, driving a sizeable amount of sales from them. While we have policies or ideologies in place to talk about their backup and archival, are we actually doing something to tap some inference out of the existing data?
Today the message is loud and clear for businesses- they need to put the customer first and think thru his eyes. A raft of new technologies- social, mobile, cloud and analytics are all set to introduce new ways of doing business. Most enterprises today either have/are considering initiatives around Big Data. New Vantage Partners conducted an interesting study titled "The State of Big Data in Corporate World"
Enterprises need to harbor a business side and creative side to delve deeper strategies that will connect them with consumers. There really wouldn't be any more niches or turfs that business can claim as their territory. The monopoly/expertise of an enterprise will be in an unfamiliar position as things are becoming irrelevant even before they realize. What will really stand out is – thinking ahead of the flow by being able to see the blurred lines. These changes can potentially cause disruption if enterprises don't look and understand about what Big Data and Analytics can do.

We are dealing with a market that's "consumer-led in this digital world". The market that we need to cater is much more complex than what it was- it's all about dealing with consumers who are social, mobile, online et al. Consumers have a wide array of options to choose from. The key to differentiation is to build strategies connecting all these touch points to offer a great customer experience.
In an analytics world, enterprises need to shift the gears towards the concept of "customer experience" from "selling". We need to relate and bring on the table the concept of – orientation in finding and helping customers in reaching what they want and not offering what an enterprise has.
The audience is ideally described in two categories- employees and consumers. There has been a phenomenal change in the both categories. Both the categories look forward to a huge amount of sophistication and personalization. The challenge that remains is the same in both categories- to enhance customization and offer a personalized "wow factor".
The silver lining in the Big Analytical world is- it helps you to co-create solutions/products that can address a whole new consumer spectrum representing innovation in its truest form. Galvanizing an enterprise's commitment to actions from insights is the call of the hour.
Taking the centre-stage in the Big Data World can be complex. Gartner's Vice President of Research, Frank Buytendijk says that three common areas that enterprises face are
A. Knowing how to get value out from it (56 percent)
B. Defining strategy (41 percent)
C. Obtaining skills (34 percent)
Having a clear consensus about what's the objective and what insights need to be drawn, play an extremely important role. A Booz & Company study presents an interesting dive about various phases for leveraging analytics from multiple perspectives.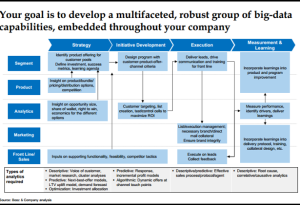 While analytics based decision making is indeed a big shift for the corporate head honchos, it will help in building operating models that will sustain and drive better business in the long run. Using Big Data is totally an art- depending on the creativity and the analytical skills of the artist. Big Data will not just provide insights but also accelerate time to market.
Regards
Anita
Technology Evangelist
Team@MSExchangeguru