Microsoft Leads the Cloud Race!
Typing the word "cloud" in search tab will yield a million results.. Welcome to the "cloud world"!

We are living in the era of cloud. There might be very few companies out there who haven't dabbled with cloud yet. Cloud has been indeed a roller coaster ride for many. On one hand it has empowered enterprises to be powerful to do get any amount of hardware in seconds, it has also driven fundamental shift in thinking- thinking about roles, organization structure, performance metrics. The whole flux of platforms, technologies, browsers, operating systems has aggravated the complexity of the job and integration mechanism to a whole new level.

The concept of "self- service" seems not just exciting but very rewarding to companies. The below study by IHS Group highlights the estimated cloud spending to be $235 Billion by 2017 – a clear indication of the opportunity enterprises are seeing in cloud.

The cloud wars have begun!


We aren't really new to the concept of players slashing out prices to gain market-share. An out- and-out open price war has begun between the cloud players. The big players aggressively leading the race are Google, Amazon, IBM and Microsoft. In the price war game, in recent past we have witnessed these players not do the typical "discount game" but make aggressive announcements about reductions in prices ranging anywhere between 30% -60%.

A common challenge faced by all the cloud players- the utilization and consumption by consumers will be on rise but the margin of growth in terms of revenue will be not comparable.

Often times this situation seems to me like a marathon race- a race where every runner wants to out-beat the other in each leap.

Amidst all this hustle-bustle, while each player has been claiming different reasons for slashing prices- it was only Microsoft that came out all in the open and announced that it will compete outright with Amazon.

The Facts!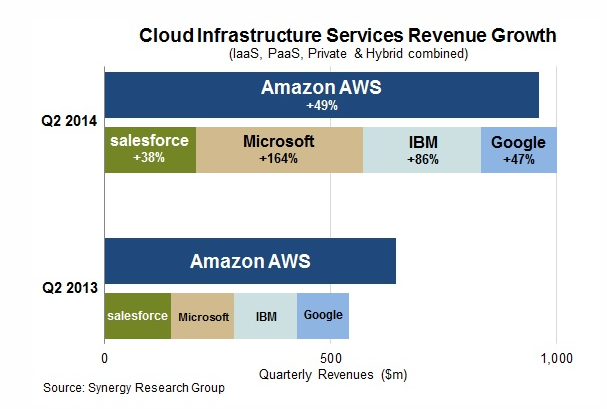 These recent numbers clearly reveal that Microsoft is leading the way. Both Microsoft and IBM have gained good market-share while Amazon has been clearly struggling. There has also been the amazing entry of many remarkable new players like Digital Ocean Inc, Joyent Inc and Contegix LLC who are clearly carving niche areas in cloud segment for themselves very successfully.

Leadership in the truest sense!

Microsoft is aiming to not adapt itself in the race of being a successful or sustainable cloud player. It is focusing on building the innovation that will act as a differentiation and industry leadership in the competitive landscape.

Microsoft's cloud adoption has been widely done by enterprises- a fact well known to all. On the other hand Amazon's cloud adoption and to a great extent even Google's cloud adoption has been phenomenal in all senses by start-ups and medium sized companies. So there is a wide "perception" that Microsoft cloud is meant for enterprises only. Its time that SMBs look beyond and make the choice towards Azure.

In the words of Microsoft CEO, Satya Nadella- Right now Microsoft has two image makeovers that it needs to focus on – a perception that Microsoft is for enterprises only and carve a set of wider selection criterions for early adoption in the SMB segment.

A quick recap on some of the highlights that Azure offers that are indeed promising for entrepreneurs, SMBs and enterprises:

Though Microsoft runs on own Windows platform

J

, doesn't mean Azure wouldn't run on Linux; it supports every platform.


New features in Azure AD: Multifactor authentication, self-service password reset, supports 1200 third party SaaS apps including Salesforce.com, Google Apps, Citrix GoToMeeting ; Single-sign-on


Azure Express-Route: connects your datacenter on a private link (avoiding the internet). The advantage is that you get higher security, lower latency, higher bandwidth and greater reliability.


Machine Learning Services to perform advanced predictive analytics using ANY cloud provider


Networking Features: support for multiple site-to-site connections to virtual networks, ability to connect virtual networks to each other (across different Azure zones), reserve public IP numbers, assign public IPs directly to VMs.


CloudApp Discovery: Not yet integrated but would be in due course of time. Microsoft hopes to have control to integrate apps with Azure AD for easier management and control; this will give a visibility into which cloud apps are in use in an enterprise


Azure Files: preview stage- lets you create folders on Azure's storage service


Azure Site Recovery: based on Hyper-V Replica, this feature lets you keep the VMs synchronized with a very minimal delay.


Azure Portal: This is still in Dev Stages. There are many new tools to monitor and analyse Azure websites, project management and source control.


Azure VM Extensions: lets you configure virtual machines with agents to manage configurations for security, antimalware protection

Prepared for the Transformation!

Cloud will bring more disruption and Microsoft will lead the path in it. With the exemplary leadership, visionary thoughts, I am sure Microsoft's "Mobile First, Cloud First" phenomenon will reverberate louder and louder in the months to come by. Microsoft demonstrates the vision of a leader that doesn't want to be company that can make a transformation but as a key enabler of innovation.

I got a chance to watch this incredible video where, Microsoft CEO Satya Nadella, talks about how strategic and passionate Microsoft is about making and taking "productivity" to next level for consumers in their everyday lives- making every moment count!

Anita Raj

Technology Evangelist

Team @MSExchangeguru