DigiScope: eDiscovery and Recovery for Microsoft Exchange
DigiScope is a powerful and flexible eDiscovery, disaster recovery and migration solution and let's take a look at what the product has to offer. 
Digiscope helps to recover the data from Offline Exchange database, Personal Storage (PST) files, and live exchange servers and also from 3rd part backup tools when there are any legal enquiries/ internal enquiries. This is an operational review in which we will take a deep dive to explore some of the advanced features Digiscope offers when compared to similar products.

DigiScope also helps in reducing the space, time and cost involved in brick level backup by in restoring individual mailboxes, email, appointment, tasks and other messaging teems directly from the exchange database. This will be archived in short time ((in minutes) using an intuitive geographical user interface without any dedicated recovery server.

Features of DigiScope:

Database Repair (EDB file Repair)

Forensic Mount
Search/eDiscovery


On-Find

Browse/Read

Filtering

Recovery of lost or corrupted data

Extraction of data and attachment files

Import & Export Mailboxes

Migration of Exchange data to new Exchange Server'

Cross version migration from Exchange to Exchange
Installation:


Installation of the DigiScope is a standard Next Next Finish.

If the Microsoft Visual C++ Redistributable Packages haven't previously been installed you will be prompted to install them before you are allowed to start installing DigiScope.

Product supports Exchange server 5.5, 2000, 2003, 2007, 2010 and 2013.

NOTE:

For Microsoft Exchange Server 5.5 (32 bit) – offline database support only, i.e. DigiScope does not support connecting to a production Exchange 5.5 Server.

DigiScope includes sample databases as part of the product installation and places them under C:\Program Files\Lucid8\DigiScope\Demo directory

Start with DigiScope:
Once the DigiScope is installed, launch the tool and this will take through the configuration steps. The first thing is to get the Demo License to use this tool.
The license can be requested by licensing tab from the tool. You need to request for the demo license which is valid for 30 days. Once the License is installed you can find the tool as below: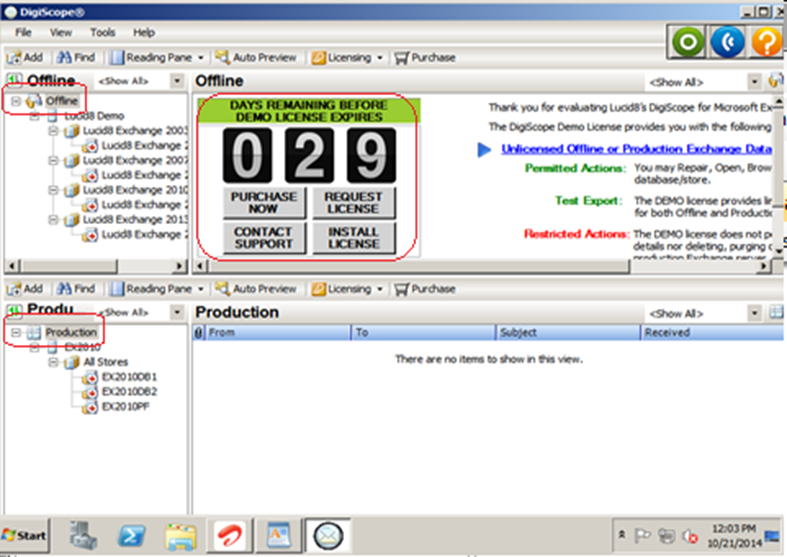 DigiScope provides a centralized console to access, search, export and restore the files from offline Exchange database and production Exchange server database.

By default it displays both offline and production panels as below, we can choose one to display and hide the other one.


Offline Tree: This consists of the archived data from different types of backups. The data files need to be added and mounted before the search actions. Once the information Store is mounted the data can be extract and restore to online database/PST files. You can also export just message attachments to disk if desired. The offline sources are either backup of Exchange database (EDB) files, previously created Personal Folder (PST) files.

Production Tree: Consists of the production sources i.e. connection to the production exchange server and personal Folders (PST). The data can be modified from the production tree. Production sources are Exchange Information store of an online exchange server and/or PST files.

NOTE: Update MAPI Files is necessary if it is required to read the files created with newer versions of Outlook than the MAPI files on the system.  If you have Outlook 2010/2013 64-bit installed on the DigiScope enabled machine you will need to update the MAPI files used by DigiScope to a 32 bit version of Outlook 2003, 2007, 2010 or 2013.

Rights Required Accessing the Online/Production database:

In order to access/connect production Exchange database, it is required to create and grant specific rights to DSAdministrators Group. The rights are depending on the Exchange server version. DigiDcope provides a tool where DSAdministrators Group and DSAdmin service account will setup automatically. The DSAdmin account setup tool will be available under C:\Program Files\Lucid8\DigiScope\Utilites\DSAdminUtility.exe. Just copy this tool and run on all production servers. Once this is setup you can get see the window as below and get the confirmation and you can find the group named as DSAdministrators and the id as DSadmin with exchange version.

EDB File Repair:

If any offline database is damaged or in dirty state with missing/corrupted log files, we need to execute full backup repair action which will be a lengthy process. In this case we can use forensic mount option available with DigiScope to bypass the need for log rollup/repair.

"Forensic Mount" is a unique and powerful feature. It allows the operator to load an offline dirty database without having to roll any missing logs, nor having to execute a time consuming repair of the database. The feature works exceptionally well for 99% of those cases where the DB is missing logs or has enough corruption that it will not normally mount without a full repair.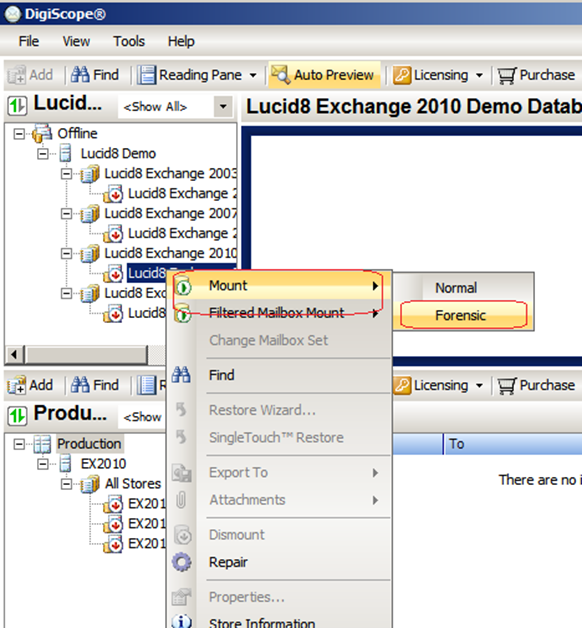 DigiScope also provides EDB repair actions to correct log rollup issue, remove the errors, damaged pages in order to repair and mount the Exchange database for recovery.
NOTE: DigiScope will replay the outstanding Exchange transaction log files to bring the database to a consistent state before opening if the available.

Browse/Read:
DigiScope provides the ability to access Offline and Online/Live Exchange databases within an Outlook-like interface allowing the operator to browse and read any mailbox/public folder Offline Exchange database, PST file or Online/Live Exchange databases. All browsing and reading actions are "Read Only" so the message state remains the same, i.e. if a message is unread in a mailbox/public folder you can view it with DigiScope without changing the state of the item.
By default the data columns shown within the interface are the "Attachment, From, To, Subject and Received" columns however you can modify the data columns presented to present data from a plethora of columns/fields.
Filtering: 
o   DigiScope includes the ability to filter i.e. include/exclude specific Mailboxes, Folders, Items by type as well as item properties, i.e. read/unread, flags, importance, date received/sent/modified, categories, attachments and more so that you can narrow the focus and only take actions against the filtered objects.
Search/eDiscovery:

If you need to find specific messaging items within a mailbox or public folder for legal purposes/business requirements the administrator needs to recover the items quickly. In these cases DigiScope provides an easy search/eDiscovery options to search for the data even from damaged/offline Exchange database and export the same to an online Exchange database/PST/directories.
On-Find
This option allows you to select what happens when an item is found during a search. The following actions are available:
Display Items – When a matching item is found, it will be displayed in the search dialog.
Export to PST – When a matching item is found, it will be exported to PST.
Export to MSG – When a matching item is found, it will be exported to a MSG file.
Purge – When a matching item is found, it will be purged from the Production server.
Export to PST, then Purge – When a matching item is found, it will be exported to PST, then purged from the Production server.
Export to MSG, then Purge – When a matching item is found, it will be exported to a MSG file, then purged from the Production server.
Delete – When a matching item is found, it will be deleted from the Production server.
Export to PST, then Delete – When a matching item is found, it will be exported to a PST then deleted from the Production server.
Export to MSG, then Delete – When a matching item is found, it will be exported to a MSG file, then deleted from the Production server.
Recover/Undelete:

DigiScope provides the ability to recover/restore the entire mailbox/Public folder databases, particular mailboxes, attachments and all other messaging items to original/alternate exchange server via its SingleTouch and Restore Wizard actions. DigiScope also provides a drag and drop interface to restore the mailbox/messages.

Export/Migrate:

DigiScope provides administrators with an advanced export, import and migration capabilities to transfer data from EDB to Production/Live Exchange Server, EDB to PST, EDB to MSG, PST to PST, PST to MSG, PST to Production/Live Exchange Server without using ExMerge/RSGs/RDBs.
In Migration, DigiScope can be used to recover/migrate the entire data-set from old Exchange servers unmounted exchange databases (EDB's) directly into the new Exchange server. This can be done even in cross versions as well.
To give an example of cross version migration, since Exchange 2003 to Exchange 2013 migration is not supported, you can use DigiScope to import data from the Offline 2003 EDB DIRECTLY into an Exchange 2013 server without having to do the PST shuffle, i.e. export then import PST files.
NOTE: During the recovery/restore process DigiScope copies the user's previously designated permissions from the old mailbox to the new mailbox which is an amazing add-on.
Additional Options:

DigiScope has not only the above features and option. We have additional options which can be used to adjust the common setting for DigiScope functions:

Global:

Using Global options we can modify the Restore methods. The default is set to Restore missing, exclude copies. This method will restore the items which are not present in destination. If the restoration is for empty target then recommended option is to select Allow duplicates. Same way we can use the different restoration methods depending on the requirement.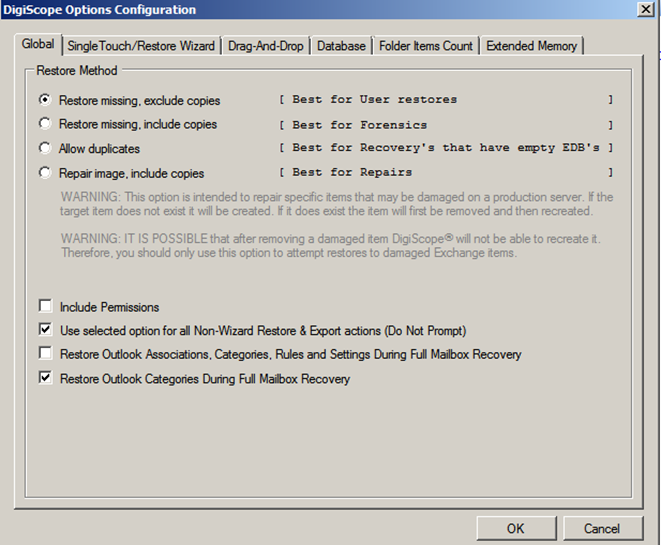 Single Touch/Restore Wizard:

This option will provide the ability to modify the setting on how items restored during the single touch/restore wizard. By default no option will be set

Drag-And-Drop:

This option will provide to ability to modify the setting on with respect to how items stored during a drop and drag restore.

Database:

This option provides the ability to modify the setting on with respect to how DigiScope interacts and performs specific actions with databases and PST files.  One notable option is the Database Actions slider which allows you to change the number of threads that are used when performing restorations or searches of Offline or Production databases. The more threads you have assigned the more simultaneous actions, i.e. assigning 8 threads would allow DigiScope to restore 8 mailboxes simultaneously.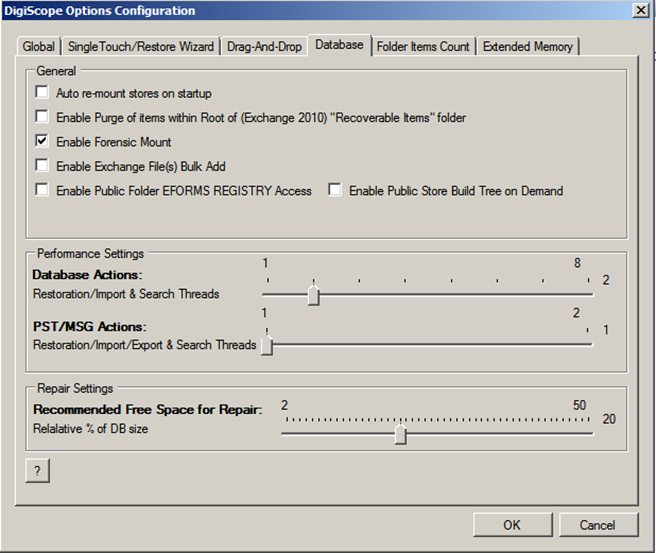 Folder Items Count:

This option will provide to ability to modify the setting on with respect to how DigiScope can display items count for folders in the mailboxes.

Extended Memory:

This option provides the ability to enable extended memory or large address Aware for DigiScope.

 Conclusion:
IT operations and data availability has never been of greater importance than it is in today's world. Every organization strives for high availability and disaster recovery capabilities and a product like Digiscope needs to be planned, budgeted and implemented upfront to recover data in the event a disaster happens. I get emails from admins and IT managers crying for help "after" their databases got crashed; so out of my personal experience, I strongly recommend Digiscope for any and every organization.
For more information about DigiScope please go to http://www.lucid8.com/product/digiscope.asp
Ratish Nair

Microsoft MVP | Exchange Server

Team @MSExchangeGuru.com