Microsoft HoloLens- The Era of Holographic Computing
Before reading on.. watch this incredible jaw-dropping video!
Boooom….. Microsoft does it again with HoloLens!
Welcome to the Era of HoloGraphicComputing!!!
Microsoft- A Visionary & An industry Leader

The Internet has been been blazing with numerous catchy phrases -Did Microsoft Just Become Cool?, Finally Microsoft nails it with Hololens, Microsoft Builds a Headset and competes with GoogleGlass etc. In my opinion and in the minds of many industry evangelists, Microsoft has always been a path breaker and a leader in technology, never a follower. If Microsoft enters a space it has always been because Microsoft has always brought to the technology platform an inspiring assortment of techniques, products which are much ahead of the times- Looking Beyond What Is Possible! That's exactly the case with Microsoft HoloLens.
As a consumer, as a technology lover, as a creative enthusiast- HoloLens just raises the bar and shows you truly in its theme- Imagine what… what if you could do with technology?
Microsoft CEO Mr.Satya Nadella once again proves that Microsoft is heading aggressively in the right direction. One of the constant struggles of many product companies as diverse as Microsoft is to not just re-innovate in existing products but also to launch products that are ahead of the curve and still be contextually relevant for the market. Microsoft's Engineering Leadership has been standing out by helming fantastic products in Satya Nadella's vision – the vision of products that will drive productivity in the cloud first, mobile first world.
Recently in the Windows10 event, Microsoft launched the stupendous- HoloLens – the world's most advanced holographic computing platform enabled by Windows10.
The stellar stealer moment in the launch was when Terry Myerson appeared LIVE as a hologram and shrieked out aloud- "I am a freaking hologram, Move Over Shakespeare" ! 😉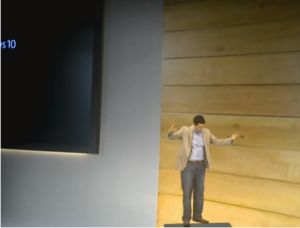 What is HoloLens?
Hololens is a headset that fuses the real world with truly amazing and exciting phases in the digital realm. It will create hi-definition holograms integrating with your personal & professional space. The hologram is made out of light.
Windows10 will contain holographic capabilities with every version. Microsoft has said the release of HoloLens can be expected around the same time as Windows10.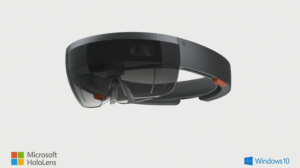 Features:
a. The headset is wireless, which means you don't have to deal with any cords, wires, phones etc.
b. Comes with a swanky new "Holographic Processing Unit" (HPU) designed exclusively for this new-gen computing.
c. Has its own CPU, GPU
d. Built-in spatial sound will let the user hear holograms wherever they may be in the vicinity of the room
e. Has a transparent hardware, transparent lens
f. Has advanced sensors- Doesn't need any mouse, screen to click- uses user movements as indications
Watch this video where Verge recommends about the phenomenal features in HoloLens highlighting the amazing features and experiences that Microsoft has brought about.
How Does Microsoft HoloLens Differ?
HoloLens Leader Alex Kipman, clearly stated "Microsoft isn't aiming to place people in Virtual World/Reality. Microsoft aims to take you beyond pixels, screens and virtual world."
Microsoft HoloLens is certainly more than a normal, simple headset display. It uses 3D holograms blended with the real world seamlessly extending beyond augmented reality and virtual reality. It is far more surreal- it will understand your vision, gestures, movements, voice, thus enabling you to interact with information in the most natural yet fantastic way possible today. The Hi-Definition holograms with transparency (doesn't make you feel inside a box) with a clear line-of-sight will present all new ways to communicate, work and play.
Watch another incredible video to really understand why does after all HoloLens differ 
Satya Nadella has brought forth significant and I must say quite an impressive list of use-cases which will be quite difficult for competitors to match with. Some interesting use-cases being remote collaboration, engineering, design work and research along with Mars exploration experiences for NASA's Jet Propulsion Lab thru holograms of Mars Rover images- an experience never possible previously.
To Know More About Microsoft HoloLens, Pls visit: http://www.microsoft.com/microsoft-hololens/en-us

To Conclude..
Microsoft has delivered a fantastic product thru HoloLens which has combined the best of both worlds – best of real images (superior than Glass) and advanced digital 3D graphics for a more spellbinding holographic experience (superior than Sulon, Oculus Rift), doesn't obscure whole vision (unlike Oculus Rift). Microsoft is also working with developers and creators all over the world to create some amazing and exciting holographic experiences for the user-base. With HoloLens, Microsoft has remarkably developed a prototype in 3D images with Hi-Definition to float around in real world for businesses and consumers. The USP of HoloLens is certainly the fact that it doesn't take you thru an escapist mechanism of taking you into a different world rather allowing you to interact with your chosen environment. Microsoft has clearly demonstrated leadership in visualizing and translating this augmented reality vision – breaking barriers between technology and humans with jaw dropping artistic elements.
Anita Raj
Technology Evangelist
Team @MSExchangeguru