Making Sense Of The SaaS Conundrum
Cloud – Time to Move over OPEX, CAPEX
Digital disruption is today's mainstream reality. I often feel tired hearing the word "disruption" with every services or product player trying to make me understand that their product/service are "disruptive this or disruptive that".
In today's times, businesses to be more agile, responsive is a fiat. Globalization, virtualization, millennial consumers and the all new Digital theme for enterprises are forcing a serious and quick relook at cloud besides infrastructure requirements.
Cloud happens to be a primary foundation in the digital context. Cloud transformation is vast and is often misunderstood for a cost arbitrage only to have a relook at business model.

Cloud goes much beyond that and is the fundamental lever for driving innovation for daring business leaders in the digital landscape.
In this 3 post series , I will be talking about how SaaS is enterprise ready, how SaaS drives and why SaaS drives business benefits at a rapid pace than on-premise.
In the first part, my focus is going to about how SaaS is mainstream and how it is a lever for value added differentiation and creative synergies for enterprises.
Why SaaS is MainStream and Enterprise Ready
Companies across all verticals are adopting the technology driven perspective like never before. The dilemma has moved at a rapid pace from "adopting cloud or not" to "can we move the applications to cloud and which applications can we place in cloud"?
SaaS is expected to represent 85% of all new software by end of 2015, 5x ahead of applications being developed on-premise.
Lets take a look at statistics.
Here's an interesting collection of most widely used applications in cloud in a study done by Netskope.
The Types of SaaS Applications
You would be even more surprised to know that SaaS has presence in almost so many areas
i. Finance and Accounting
ii. Analytics
iii. CRM
iv. Talent Management
v. Procurement
vi. Sourcing
vii. Budgeting
viii. Management
ix. ERP
x. Supply chain
xi. Ecommerce
xii. Reporting
xiii. Planning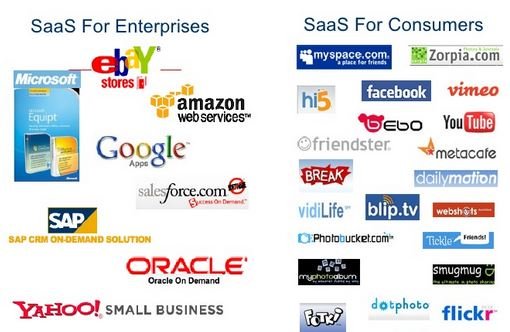 SalesForce is the de-facto application for sales and marketing teams across the globe.Collaboration platforms like Dropbox, Workshare, Huddle and Box have growing user base. AWS provides SaaS leads the pack by providing packages for consumption for even few hours [cloud based hosting paid by the hour ], well that's the level of sophistication for your money's value.
SaaS – A CEO's Knight for accelerating the Pace of Innovation:
CEOs today are constantly grappled with mounting pressures on complexity and value differentiation.
According to a study by KPMG titled, Global 2015 CEO Outlook
i. 86% of CEOs are concerned about decreasing customer loyalty
ii. 74% of CEOs are worried about all the new entrants that can pose a threat
In such demanding times, SaaS is indeed a savior for the CEOs for driving innovation at an accelerated pace.
SaaS has been a key driver for fueling top-line growth and competitive advantage. SaaS takes care of all the business infrastructure requirements from scalability to agility, equipping you with the much needed speed and focus for reengineering your service/product. The entire process of working on applications in the life cycle of development is a complex beast.New releases, maintenance and iterations can be indeed intensive and time consuming. The SaaS model empowers companies to be aggressive in their time to market strategy by creating an amalgam of different components in the development phase resulting in a much efficient and simpler way of prototyping solutions and services.
SalesForce , is indeed a force to reckon with in SaaS. Salesforce CEO, Mark Benioff along with Parker Harris , Frank Dominguez and Dave Moellenhoff built a SaaS offering from scratch way back in 1999. Not only has SalesForce achieved rapid growth but it also has built a huge portfolio viz., CRM, Force.com, Sales Cloud, App Exchange, Chatter, Configuration, Web Services and Service Cloud.
Looking at growth and value differentiation brought by companies such as Adobe, SalesForce and JobNimbus , it goes without saying that SaaS is critical for driving innovation.
To Conclude..
The colossal mind shift has indeed happened from – "can we place an application in cloud TO why do we need this application on-premise" ? SaaS will be the de-facto model for businesses that intend to put laser sharp focus on their core objective.
In the next post in this series, I will be discussing how SaaS performs in the economics of licensing and drives agility with portability along with integration.
Technology Evangelist
Anita Raj
Team @MSExchangeguru