Exchange 2013 CU13: New DB Creation Can't Mount without IS Restart
Microsoft Exchange Team has released the Exchange 2013 cumulative update 13 in Jun 2016. Here is an important update which is very important to know for our new database planning.

Exchange 2013 CU13 will not mount new database until we restart "Information Store" service on your database hosting exchange server. It will happen every single time when you create new database.

You will get the following error message while mounting the database.

Failed to mount database "DatabaseName". Error: An Active Manager operation failed. Error: Couldn't find the specified mailbox database with GUID "Guid Id". [Database: DatabaseName, Server: Server name]

Please restart the Microsoft Information Store service on server "Server name" after adding new mailbox database.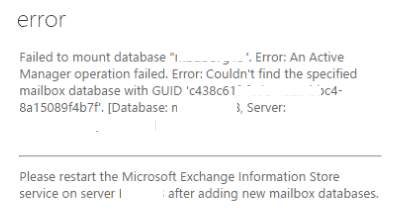 Earlier it used to be a warning and database used to mount without Information Store restart. It was a recommended step to balance the server memory allocation which is why we have always recommended to create in your planned time when you can move all the roles out of the server.

So if you have deployed cumulative update 13 then make sure to create database/s during post production hours.

Feel free to share your observation.

The following blog explains how to move the roles to another server. I have also created the scripts to easy your work.

http://msexchangeguru.com/2015/12/26/exchange-update-deployment-process/

Microsoft MVP | CTO @ Golden Five

Team@MSExchangeGuru

Don't forget to register.