Exchange 2016 – Outlook on the Web
You can configure outlook web app policy in Outlook Web App virtual directory or create custom policy and apply to individual mailboxes and the policy applied to individual mailboxes overrides the policy applied to OWA virtual directory.

Configure the OWA Virtual directory

You should first configure the OWA virtual directory or leave it as its default configuration.

Using Exchange admin center:

Open EAC > Servers > Virtual directories > owa > Edit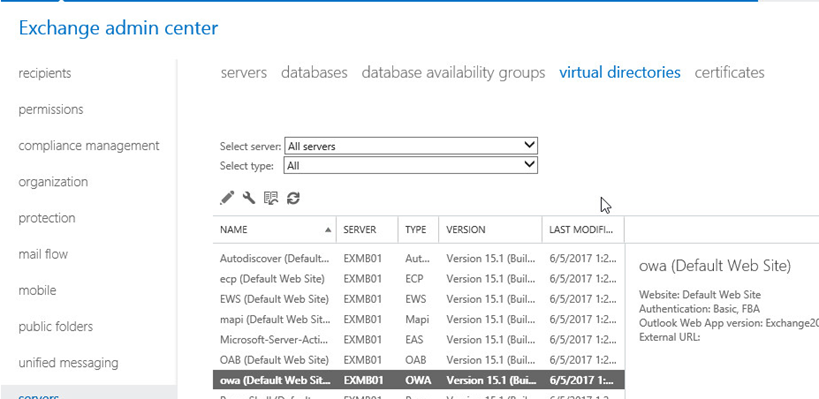 You can configure the internal and external URL of OWA

Authentication: you can choose between two types of authentication


One or more standard authentication: it divided into three authentication methods:


Integrated Windows authentication: This method requires that users have a valid Windows Server 2008 or Windows Server 2012 user account name and password to access information.

Digest authentication: This method transmits passwords over the network as a hash value for additional security.

Basic authentication: This method is a simple authentication mechanism defined by the HTTP specification that encodes a user's sign-in name and password before the user's credentials are sent to the server


User forms-based authentication: it divided into three authentication methods


Domainuser name

User principal name (UPN)

User name only: but you must define the logon domain

Features: Select the features that will be available for users:


Communication management features

Information management features

Security features

User experience features

Time management features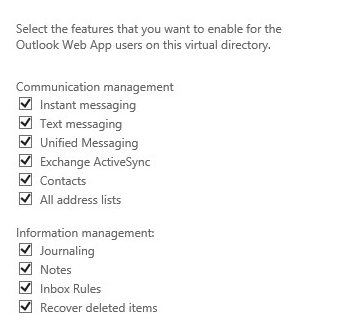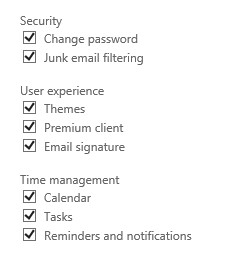 Specify if user can direct access the attachment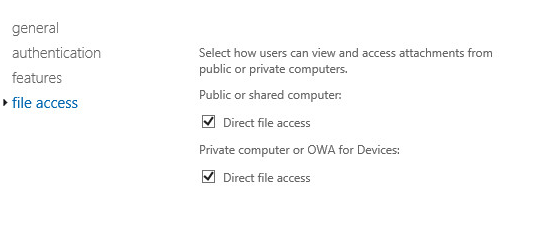 The OWA virtual directory also can be defined through exchange management shell with command "set-OwaVirtualDirectory" as below:

https://technet.microsoft.com/en-us/library/bb123515(v=exchg.160).aspx

Configure the OWA policy

You can define owa custom policy and assign it to individual users.

Using Exchange admin center:

Open EAC > permissions > Outlook Web App policies > add




Specify the below points then save:


Display name

Features


Type of attachments access








Then we should assign the policy to user as below steps


Recipients > mailboxes > edit





Mailbox features > Email Connectivity > Outlook on the web > view details





Then browse and choose the OWA policy







And you can create OWA policy using exchange managamnet shell using command "Set-OwaMailboxPolicy" as below:

https://technet.microsoft.com/en-us/library/dd351097(v=exchg.150).aspx

And you can assign the policy to the user using command "Set-CASMailbox" as below:

https://technet.microsoft.com/en-us/library/bb125264(v=exchg.160).aspx

Ratish Nair

Microsoft MVP | Office Servers and Services

Team @MSExchangeGuru