Exchange 2010 SP3 installation document
Exchange 2010 SP3 installation document.
Go to the link below and Download SP3 for Exchange 2010
http://www.microsoft.com/en-us/download/details.aspx?id=36768

Readiness check will give you error if exchange management shell will be used. So close all the powershell process.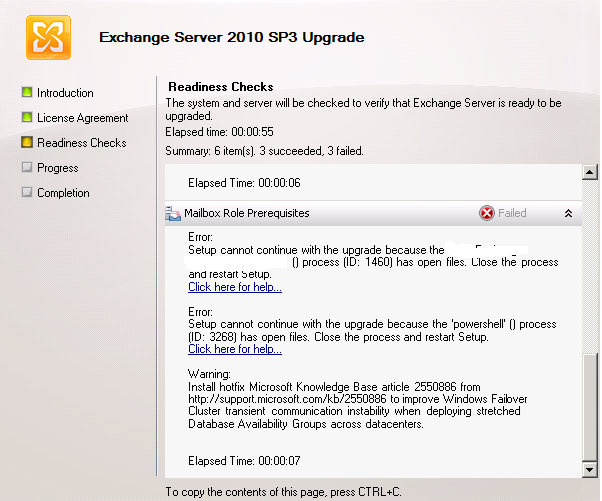 At the readiness you will get the warning requesting the installation of the hotfix 2550886
http://support.microsoft.com/kb/2550886

So go the below link and click on download, you need to give your email address then you will receive a link to download in you email.

Extract the file to c:tempsp3 folder
Double click on setup.com
The following page will open
Select "Install Microsoft Exchange Server Upgrade"

Now you will see the below screen, click next here.

Select "I accept the terms in the license agreement" and click next
Now readiness checks will run as per the below screen, Click on Upgrade here
Click Finish here
Then take restart. Then check the version of the server.
For the testing, Move active DB between both the servers for couple of times to test. It should move successfully. This confirm mis-matched version does not cause any DAG failover issue.
Now Move the active DBs to this SP3 updated server and apply the same steps on the other servers then restart.
Once finish updating the SP3, Move the active DBs back to the servers
Verify the active database mounted server as per active preference. Correct if required.
For the testing create a mailbox, move a mailbox and send an email.
Prabhat Nigam | MVP Exchange

Team @MSExchangeGuru