Upgrade from Exchange 2013 CU1 or RTM to CU2
Let's take a look at how to install Exchange 2013 CU2.
Download Exchange 2013 CU2 from the below link.

http://www.microsoft.com/en-us/download/details.aspx?id=39609

Extract the Exchange-x64.exe to c:tempCU2 folder or any other folder.

Now run the setup.exe


It is simple as earlier.

Select do not check for update and click next.

You will see the below screen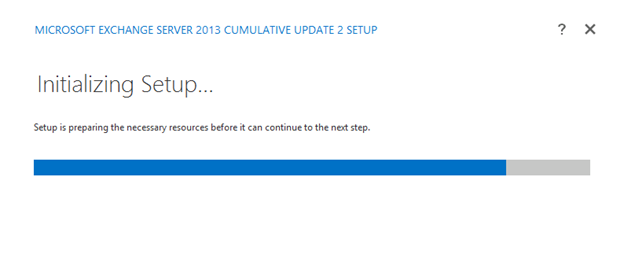 Click next when CU 2 upgrade screen comes.

Click I agree and next on license Agreement

Click install to start the installation of CU2 for Exchange 2013.

Now you can take a break as it will take some time

Once you will come back, you will see the below screen

Restart the server and look for the changes as per below article.

http://technet.microsoft.com/en-us/library/jj150489(v=exchg.150).aspx
http://blogs.technet.com/b/exchange/archive/2013/07/09/released-exchange-server-2013-rtm-cumulative-update-2.aspx

Issue reported and resolution:
1. CU2 might turn on FBA but configuration will not show this.
Fix: Turn on FBA in EMS then turn off. This should fix the issue.
2. Public Folder Permissions Loss after PF Mailbox Move
Fix: Microsoft will be releasing an IU fix asap until that do not move PF mailbox. Check the below link for more info.
http://blogs.technet.com/b/exchange/archive/2013/07/12/e2013-rtm-cu2-issue-public-folder-permissions-loss-after-pf-mailbox-move.aspx
Prabhat Nigam
Microsoft MVP | Exchange Server
Team@ MSExchangeGuru