Exchange 2013: Significance of LegacyExchangeDN
LegacyExchangeDN attribute has been playing a great part in Exchange and outlook communication. This has given some NDRs if user was recreated. Exchange 2013 has come up with some changes so let us go through the changes and whats new here.
Active Directory does indexing of LegacyExchangeDn attribute but it can't go beyond 126 bytes. So we need to make only 1st 126 bytes unique then rest. If we copy over 126bytes size LegacyExchangeDN to ProxyAddresses, active directory query degrades the performance.
This is why Exchange 2013 adds a guid before the alias of the user. This is a default behaviour and not a bug.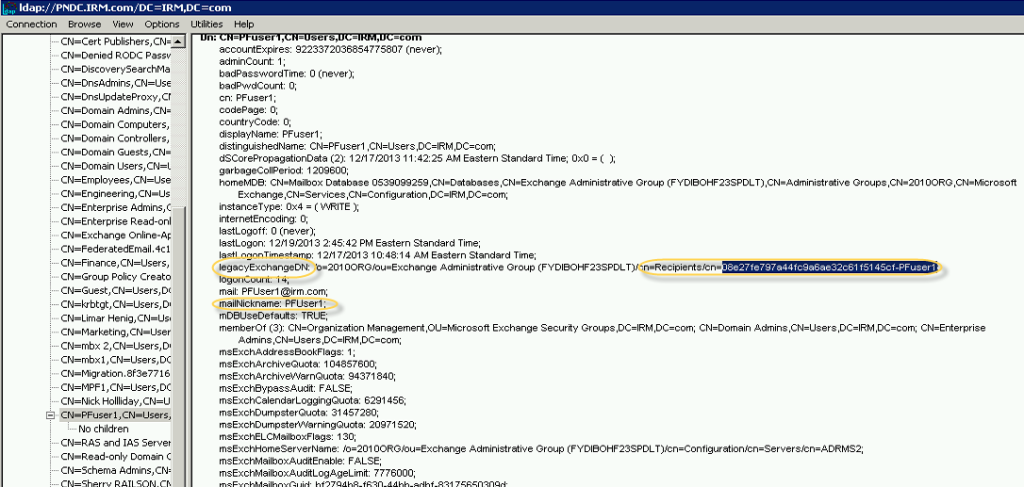 We can turn off this behavior by running the below cmd. I could not run this command from my CU3 server but this command is looking possible in the future release as this is mentioned in the technet and configuration.

Set-OrganizationConfig -IsGuidPrefixedLegacyDnDisabled $true
Reference Link: http://technet.microsoft.com/en-us/library/aa997443(v=exchg.150).aspx
I have logged a bug at Microsoft so I will update here if this bug gets resolved.
Prabhat Nigam
Microsoft MVP | Exchange Server
Team@MSExchangeGuru