Microsoft Ignite – Spark the Future (May 4 – May 8 2015)
I believe we are truly fortunate to be living in this phenomenal era of Digital Age!
With the multitude of cool technologies and concepts viz. cloud, IoT, big data, social, augmented reality, wearables, gaming, tablets, operating systems- harvesting all of this amazing technology is only half of the equation. Experiencing the technology hands-on is where real value lies and that's where Microsoft Ignite will stand out.
We are pleased to let you know about "Microsoft Ignite- Spark The Future" event!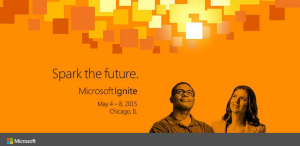 True to its theme- "Spark the Future", Microsoft Ignite will be all about the phenomenal things that Microsoft is driving, sharing their product roadmaps.
Microsoft Ignite is happening at Chicago Illinois between May 4-8th 2015 (details are towards the end of the blog.)
Ignite will give everybody (irrespective of your role whether you are developer, tester, manager, decision maker, IT Professional )- a great glimpse into the future with a 1*1 experience.
Featured Speakers:
Satya Nadella:
Chief Executive Officer, Microsoft
Satya Nadella leads Microsoft's transformation to a productivity and platform company in the cloud-first, mobile first world as CEO. Prior to becoming CEO, he has held multiple leadership roles in enterprise and consumer businesses within Microsoft.
Joining Satya, would be his fantastic team comprising of:
• Brad Anderson (Corporate Vice President of Enterprise Client & Mobility (ECM team)
• Julie Larson Green (Chief Experience Officer, Applications and Services Group, Microsoft)
• Dave Campbell (Chief Technology Officer, Cloud &Enterprise, Microsoft)
• Joe Belfiore (Corporate Vice President, PC, Tablet and Phone, Microsoft)
• Peggy Johnson (Executive Vice President, Business Development, Microsoft)
A Hands-On Experience
Get hands-on experience and boost your skills on the techology you use today and see what's coming next. Take a test drive of the latest techology to really get a feel for its potential- that's the promise of Ignite for you- experience technology hands-on.
With Awesome Presentations accompanied by foot tapping music, Cool Tips on how you "troubleshoot", perform activities faster, Know what's new, Hear what's coming up, Share your experiences with & Hear from people you admire, you'll walk away with a whole new deal of "Insights", "Energy", "Confidence" and above all – Inspired and ready to put it all into action.
A snapshot of some of the products that will be getting featured at Ignite:
• Azure
• Exchange
• Intune
• Lync
• Office 365
• Project
• SharePoint
• SQL Server
• Surface
• System Center
• Visual Studio
• Windows
• Windows Server
• And more
Why Should You Be There!!
Companies and Individuals who want to stay ahead of the curve, are aggressive about fueling growth in the technology landscape- Ignite is the platform to be At!
Action For You!!
Get the registration details # https://microsoft.eventcore.com/Ignite2015/auth/login
Get the sponsorship details # http://ignite.microsoft.com/#fbid=byr-rWretzA
To Summarize..
Microsoft Ignite is the TECHNOLOGY conference of the year. And everyone's fired up!
Thoughts Will Be Sparked And Amazing Experiences Will Be Had!!

Technology Evangelist
Anita Raj
Team@MSExchangeguru