Exchange 2013: Hybrid Part 7
In the previous blog we covered the mailbox creation, migration and mail flow. In this blog we will cover the post configuration and migration task. This will also end this Series.


Post Migration Tasks:

There are certain change required post configuration and migration. Let us walkthrough what are the changes required.

-Change MX record

After you've completed configuration of your hybrid deployment using the Hybrid Configuration wizard and validated the outbound connector in office 365 then you can direct mail flow through the Exchange Online Protection (EOP). At the same time we have 3 options which are mentioned below:

Let the incoming mailflow continue as it is. In this case no changes required and Exchange 2013 will forward the emails to the office 365 mailboxes using the targetaddress attribute which migration will set.

Add 2nd mx record which will point to Exchange online Protection. In this case we will add high availability to our design. Tragetaddress attribute will forward the email from On-premise to office 365 and office 365 will also forward to Exchange 2013.


Final option is change the mx record pointer to the Exchange online Protection. This will be the only option left when we will be decommissioning Exchange servers. After you change the MX record to point to the EOP mail servers, all email messages for both on-premises and Exchange Online recipients will be routed through EOP and Exchange Online. Email messages for on-premises recipients will then be routed from Exchange Online to your on-premises organization.


MX record for Exchange Online Protection will be setup like this




TechNet link on Hybrid Transport: Transport options in Exchange 2013 hybrid deployments

-Reverse Migration Issue

If you have created a mailbox in Office 365 and trying to migrate it to Exchange 2013 on-premise then you need to update ExchangeGuid in the remote mailbox Properties by running the following command before starting the move of this mailbox.

Set-REmoteMailbox mailboxname –ExchangeGuid Guid

To get the Guid you need to connect to the office 365 from windows powershell and run the command.

Get-mailbox mailboxname | fl ExchangeGuid

Reference: https://support.microsoft.com/en-us/kb/2956029

-Testing your Hybrid:

EXRCA.com is the best place to run office 365 test. I ran SingleSignon test and I got passed. J

You can use to analyze, and run tests for, several Exchange 2013 and Office 365 services, including Exchange Web Services, Outlook, Exchange ActiveSync, and Internet email connectivity.

-OWA and ActiveSync Mailbox Policies.

We can configure OWA and ActiveSync mailbox policies as per our requirement. By default, default policy will be assigned.

-Remote Domain

You can add additional remote domain and configure their policy as per on-premise configuration..

-Client Connectivity:

Let us also have a look on the client connectivity so that we can see how client experience.

Users running Outlook 2013, Outlook 2010, or Outlook 2007 who connect using Outlook Anywhere will be automatically reconfigured to connect to the Exchange Online organization when their mailbox is moved.

ActiveSync users will be automatically configured if their Exchange and device level support this feature.

Migration from Exchange 2013 to Office 365

You don't need to configure mobile device because Targetowaurl attribute will provide redirection URL. I have tested this and it works but have some patience because it may take 5-10 minutes.

Migration from Office 365 to Exchange 2013

If you have to migrate back from office 365 to Exchange 2013 then you may like to try the following but Microsoft has confirmed that it will not work and I have not got any success either.

Get-OrganizationRelationship | Set-OrganizationRelationship -TargetOwaURL https://mail.go5llc.com/owa

You need to reconfigure the profile in the mobile device. I changed the servername in my IPhone 6.

OWA for Office 365 will prompt for redirection URL. Once you click on this link, you will be redirected to office365 OWA URL after verifying single sign on with ADFS. If you are accessing OWA from domain joined computer then you will not be asked for the password but if you are accessing OWA from a non-domain joined computer then you will be prompted for a password. Make sure to enter UPN and password in single sign-on.

ADFS login prompt came from non-domain joined computer.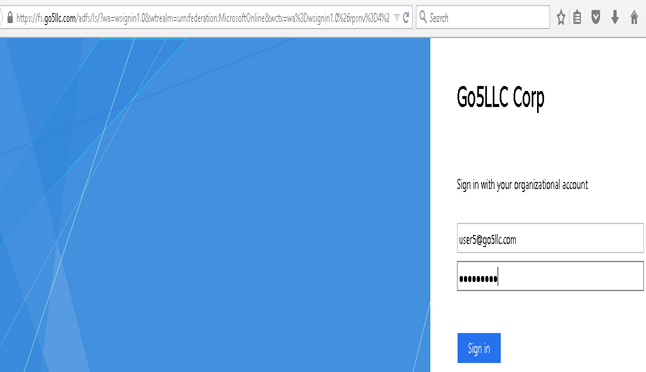 If you are using a domain joined then make sure to add your ADFS url in the internet options à Local intranet to bypass the ADFS login step. Once you have this configured then you will not see the above page or ADFS login popup.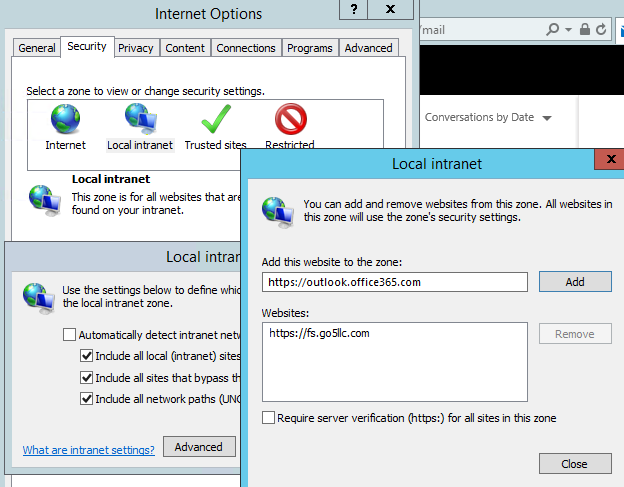 User5 finally logged in.

Make sure you login to the computer with the same domain login as OWA else ADFS will try to login with domain login user and fail if this user's account is not present in office 365.

Before Migration: Normal connection

Now I am migrating the user to Office 365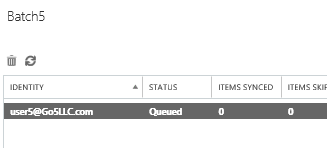 You will get a popup to login. I would recommend to close outlook and reopen. Then provide a password when popup comes because you may still need to restart outlook after popup comes to restart outlook.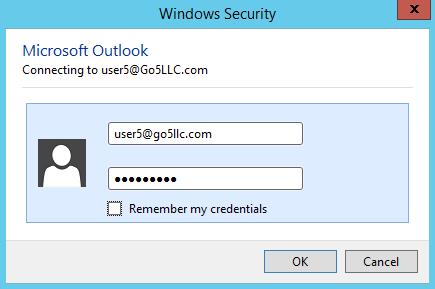 Now if we the connection status then we will see displayname will come up and Server name will show the Office 365 url.

We also tested office 365 to Exchange 2013 mailbox migration and found. You need to close and reopen outlook in both the migration. The only difference is Exchange 2013 uses AD login so it will not prompt you for id and password but when you move a mailbox to office 365 then you need to provide login id(UPN) and password

Office 365 and Exchange 2013 support hosting public folders on the Exchange Online & migrating public folders. We can configure public folders so that users in either the on-premises or Exchange Online organization have access to public folders in either organization. Our main priority will be to remove legacy Public Folders. So keep the Public folders either in Exchange online or Exchange 2013. You can't coexist them.
To allow Exchange Online users to access public folders, run the below mention command in your office 365 powershell.
             Set-OrganizationConfig -PublicFoldersEnabled Remote -RemotePublicFolderMailboxes PF-mailbox1,PF-mailbox2
You need to add all Public Folder mailboxes in RemotePublicFolderMailboxes which you can get from exchange management shell by running the below mentioned command:
             Get-mailbox -PublicFolder
There is no native way of migrating Public Folder mailboxes from Exchange 2013 to Office 365. We need to check for the tool. Dell (Quest) Migration Manager for Exchange does not migrate it. So we are left with BitTitan's MigrationWiz and BinaryTree. I would prefer MigrationWiz which is a simple migration tool. I will be writing a blog on MigrationWiz migration sooner and link it here.

Calendar Sharing: Full or limited details:
If your org supports full details calendar sharing then you need to add sharing rule in the sharing policy  for smtp domain with max calendar access. I have mentioned it here.
-IRM

IRM is supported in the Office 365 so we can protect our emails and document. This needs a proper planning so this link can be helpful. https://technet.microsoft.com/en-US/Library/jj659052

We have also posted many blogs on ADRMS configuration for On-Premise.

-Export & Import Rentention Tag

We can export and import retention tag with the help of this technet link. https://technet.microsoft.com/en-US/Library/jj907307

-Troubleshooting Hybrid:

Check out the following resources recommended by Microsoft to resolve some common hybrid deployment configuration issues:

Additionally you might be able to open a support ticket from office 365 Portal

This is the last part of the Hybrid Series. I hope you liked it.

Prabhat Nigam

Microsoft MVP | Exchange Server

Team@MSExchangeGuru

Tweet me @PrabhatNigamXHG