Exchange 2016: Installation System Requirements and Prerequisites
This blog is talking about System Requirements and Prerequisites of Exchange 2016 setup. Study and prepare your Infrastructure for the Exchange 2016 Deployment. There is a little change in the requirements post release of RTM so have a look and plan better.

System Requirements

Coexistence:

Exchange 2010: All Exchange 2010 role servers including Edge Transport should be SP3 RU11 or above.

Exchange 2013: All Exchange 2013 role servers including Edge Transport should be CU10 or above.

No Exchange 2007 should be there in the environment.

Forest Requirement:


    Forest Functional Level should be windows 2008 or above

Domain Requirement:

Domain Functional Level should be windows 2008 or above

All domain controllers should be windows 2008 or above

All Active Directory Site should have at least one Windows 2008 Domain Controller with Global Catalog.

64 bit Domain controller are recommended.

Operating System Requirement:

Windows 2012 Standard or above but windows 2012 R2 is recommended because IPLess DAG is not possible in Windows 2012 which is the default configuration.

IPv6 should be enabled with IPv4. Don't disable any IP version.

Disk Format:

64Kcluster block size.

System and Exchange Binary partition should be NTFS. Raid 1 is recommended.


Database, Logs and content indexing partition should be ReFS. Recommended a Jbod setup with AutorReseed in case of 2 or more mailbox servers.

Paging File:

The page file size minimum and maximum must be set to physical RAM plus 10 MB. At the same time, we can go up to a maximum size of 32778MB when physical memory is 32GB.

Memory:

Mailbox Role:         Minimum 8GB


Edge Transport Role:    Minimum 4GB



Processor:

x64 architecture-based computer with Intel processor that supports Intel 64 architecture (formerly known as Intel EM64T) is the best supported processor.

AMD processor that supports the AMD64 platform is supported

As always Intel Itanium IA64 processors are not supported

Supported Clients:

Outlook 2016

Outlook 2013 SP1 or later with KB3020812

Outlook 2010 SP2 with KB2956191 and KB2965295

Outlook for Mac for Office 365

Outlook for Mac 2011

Bye to Outlook 2007

.Net Framework:

    It is always recommended to install latest .net Framework which is 4.5.2 at this moment. .Net Framework 4.5.2 can be downloaded from here.

    As the same time 4.5.1 will work as well. You need to make sure the following is installed


Management Tools:

    Management tools can be installed on a windows 8.1 or higher client.

    Management tools just require .Net Framework 4.5.2 which can be downloaded from here.

Prerequisite

Open PowerShell with run as administrator and run the following command:

Install-WindowsFeature AS-HTTP-Activation, Desktop-Experience, NET-Framework-45-Features, RPC-over-HTTP-proxy, RSAT-Clustering, RSAT-Clustering-CmdInterface, RSAT-Clustering-Mgmt, RSAT-Clustering-PowerShell, Web-Mgmt-Console, WAS-Process-Model, Web-Asp-Net45, Web-Basic-Auth, Web-Client-Auth, Web-Digest-Auth, Web-Dir-Browsing, Web-Dyn-Compression, Web-Http-Errors, Web-Http-Logging, Web-Http-Redirect, Web-Http-Tracing, Web-ISAPI-Ext, Web-ISAPI-Filter, Web-Lgcy-Mgmt-Console, Web-Metabase, Web-Mgmt-Console, Web-Mgmt-Service, Web-Net-Ext45, Web-Request-Monitor, Web-Server, Web-Stat-Compression, Web-Static-Content, Web-Windows-Auth, Web-WMI, Windows-Identity-Foundation

    
				
Restart the server


Install .Net Framework 4.5.2 can be downloaded from 

here

.
						

Install Microsoft Unified Communications Managed API 4.0 core Runtime:

    Browse to UcmaRuntimeSetup.exe then Right Click and select Run as administrator


This will start a command prompt and the following window. Don't close the command prompt
Click next then check the checkbox to agree and click Install.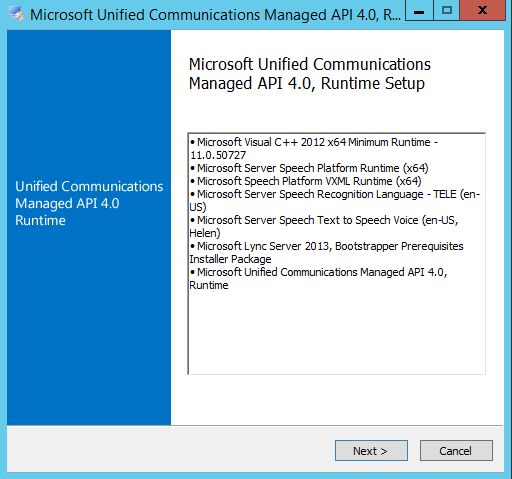 Setup will verify the files and then install them. In few minutes you will see installation has complete. Click finish and restart the server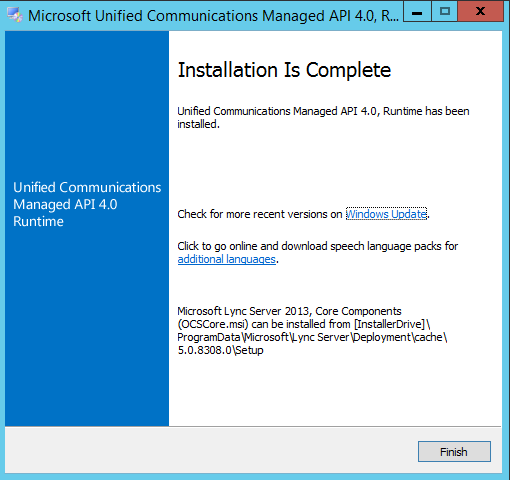 Exchange 2016 System Requirements and Prerequisites ends here.
Microsoft MVP | Exchange Server

Team@MSExchangeGuru