Exchange 2016 – How to configure outlook rules
One of the common function that the users use is to manage the mails using outlook rules as following:

To enter the rules and alert wizard: Open Outlook > Home > Rules > Manage Rules and Alerts

You will have options:

New Rule : to create a new one

Change Rule : to edit the current rule

Copy the existing Rule

Delete the existing rule


Run Rules Now: to run the existing rule now


If you choose new rule you will have three types of rules:

Stay Organized: to take action to specific mails according to specific criteria that you will define.

Stay Up to Date: to notify you in some way when you receive a particular message.

Start from a blank rule: that can be customized totally without any existing template.

For example to configure stay organized choose "move users from someone to a folder"

From Step2 you should define the sender and the destination folder that will be moved to.

For example to configure a blank rule and choose "Apply rule on messages I receive" then press next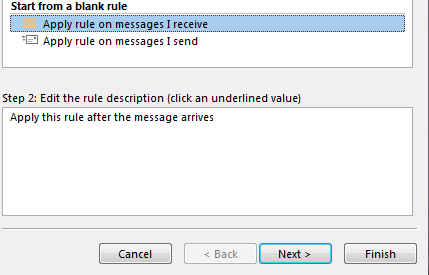 First you should choose the condition to match from many options:

Then you should choose the action that will be done to the message

Also you can optional choose the exceptions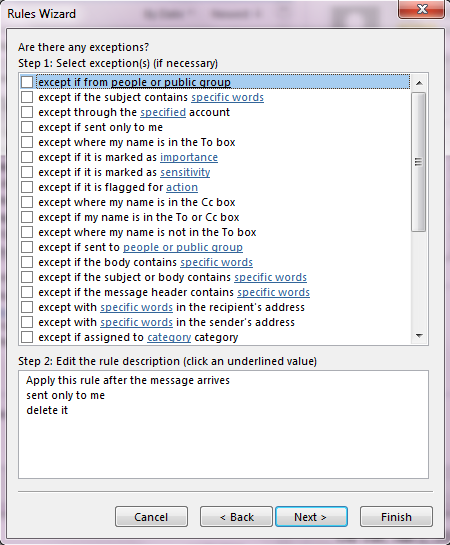 Then you should specify the Name, select to turn the rule on or not and if run the rule to existing mails or for the new mails only.

If you need to manage the existing rule choose change rule then edit rule setting then you will have the all options to be edited.

Ratish Nair

Microsoft MVP | Office Servers and Services

Team @MSExchangeGuru