MS Ignite 2015 – Key TakeAways and Highlights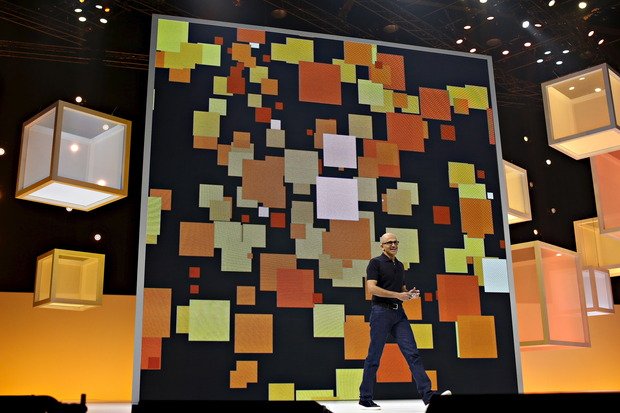 Microsoft kicked off " Ignite conference " on May 4th with much aplomb and the stunning style it usually does. The event is a combination of IT professionals coming together across MS Products- a diversified amalgamation of TechEds in the past for Windows 10, Azure, Machine Learning, Exchange, SharePoint and Lync.
Microsoft CEO Satya Nadella kicked off the event outlining the company strategy, reiterating its vision and how they truly plan to empower and enable every organization to achieve and grow more.
The core premise of Satya's keynote were the company's three ambitions:

• Create more personal computing
• Reinvent productivity and business processes.
• Build the intelligent cloud
So lets now understand how Microsoft aims to bring a difference by interspersing the ambitions within its products.
CREATE MORE PERSONAL COMPUTING:
• Windows Update for Business
This is a new option in the management category enabling enterprises to keep their devices up-to date with latest security updates, critical fixes, features and patches. This will help in reducing management overhead expenses and make the process faster.
• System Center Configuration Manager :
This is quite specific to Windows 10 giving IT professionals the much need tools to update, manage, deploy and ofcourse secure Windows 10. At the moment, this is it its technical preview stage. Microsoft will also be releasing service packs for present Intune for Windows10 support, 2012 R2 Customers and Configuration Manager 2012.
Lets now understand how Microsoft augments its ideas for " Reinventing Productivity ".
REINVENTING PRODUCTIVITY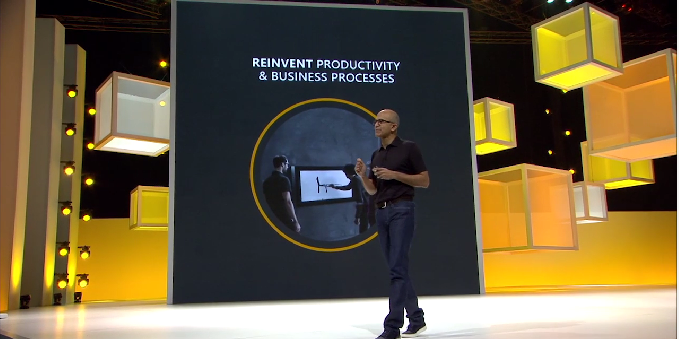 • SharePoint 2016:
Showcased on Day 1 of the event, this new version will be providing access for on-premise SharePoint customers in the cloud thru hybrid deployments with Office 365 for newer user experiences, reporting and compliance.
• Skype for Business Broadcasting:

This was one of the areas that was truly liked by a lot of audience. Announced on Day 1 of the event, it will enable customers to broadcast meetings to upto 10000 people by using Azure Media Services for streaming PowerPoint, audio and video, polling, Q&A.
• Exchange Server 2016:
Demonstrated for an altogether fresh approach to improved eDiscovery, better and quicker search, document collaboration and developer/admin extensibility for mail, calendar and contacts. It will be available in preview option later this year.
• Office 2016:
Bringing in abundance in-app, real time coauthoring to Office desktop, this will truly enhance real time changes to text and presence as they happen to the users. It also in short means that all the diverse stakeholders across will be on the same page as they will be creating content.
• Analytics in Office Delve:
Armed by Office Graph, it empowers the companies to have a rich dashboard for measuring, tracking and identifying trends within the company and outside from Office 365 data.
Lets now take a deeper look at how Microsoft aims to build an "Intelligent Cloud".
Intelligent Cloud:
• Microsoft Advanced Threat Analytics (ATA):
ATA will help security professionals identify security threats, breaches based on machine learning and behavioral analysis. This technology is based on the most recent acquisition of Aorato.
• Office 365 control enhancements and transparency:
This was a great feature that got introduced, silencing to a great deal about all the halaa boo about "security in cloud , how much and how can will a cloud service provider be seeing and accessing my data? ". This feature lets the allows customers to have enhanced visibility and security of their data thru "Customer Lockbox" that will enable customers to have explicit assignment and approval rights for Microsoft to see/interact with their data. Office 365 is the ONLY cloud service that will be providing users with this superior level of data control.
• SQL Server 2016 :
With spell binding experience for performance across the mission critical applications, this database is miles ahead with its analytics platform tightening the insights in the cloud. This is the industry's first — "Stretch Database " will empower the users thru its cost effective dynamic access to past data to Azure, mobile BI for on-premise data, security, encryption technologies, built in advanced analytics with R language and enhanced in-memory technologies with real-time operational analytics.
• Hybrid Cloud for the Next Generation :
Microsoft Azure Stack has brought Azure's experience , IaaS, PaaS capabilities into datacenters. The all new stack is based on the core technology as Azure extending its sphere of influence in security, software defined datacenter with a centralized dashboard. This is available as a preview in the coming summer. You can also watch a preview here !
• Windows Server 2016 and System Center 2016 :
The event also presented the much awaited preview of the Windows Server 2016 with some interesting twists – Nano Server, an option for faster installations. Why do I say Nano Server is so cool? – it gets you 93 percent lower VHD size, 80 percent fewer reboots and 92 percent fewer critical bulletins. It will also be offering Azure Service Fabric which will enable automatic "scale and heal" of the applications. You can expect to also see another technical preview with Hyper-V and Windows Server containers this summer
• Microsoft Operations Management Suite (OMS):
Extending the System Center, it will manage log analytics, availability , security and automation across any instance and any cloud.
Satya towards the end of the keynote emphasized on the fact that harnessing intelligent technologies, products and solutions can help "good companies become great companies" and ofcourse better at doing what they are good at already.
Post the keynote, we saw amazing sessions by Joe Belfiore presenting about Personal Computing with Windows10 ; Gurdeep Singh Pall presenting about reinventing productivity with modern way of working ; Julia White demonstrated Gurdeep's presentation with Office 365 in a remarkable way along with Surface Hub, Sway along with Brad Anderson and Terry Myerson.
A Quick Recap on the Major Announcements:
The announcements truly reflected the extensive thought process behind these in terms of "the choice" factor – a huge choice to have an open, interoperable and cross platform.
• Public Preview of Azure AD Privileged Identity Management
• Public preview of Azure RMS Document Tracking (demo)
• Announcing the next preview Windows Server 2016 – available now
• General Availability of Azure AD Cloud App Discovery (demo)
• Announcing the next preview of System Center 2016 – available shortly during the week
• Announcing the Microsoft Azure Stack – available in preview this summer (demo)
• System Center Configuration Manager Technical Preview for managing Windows 10
• Announcing Outlook conditional access and MAM with Microsoft Intune will be enabled in Q2 (demo)
• Announcing availability of the Microsoft Operations Management Suite (OMS) (demo)
• Announcing SQL Server 2016 – in preview this summer
• Public preview of Microsoft Advanced Threat Analytics (ATA) (demo)
Some Really Cool Formats of the Event:
Day 2, 3 , 4 were a great and fun filled experience for the roaring 23000+ audience to explore, network, get a hands-on of the amazing products, labs, breakout sessions in each of their interested core areas.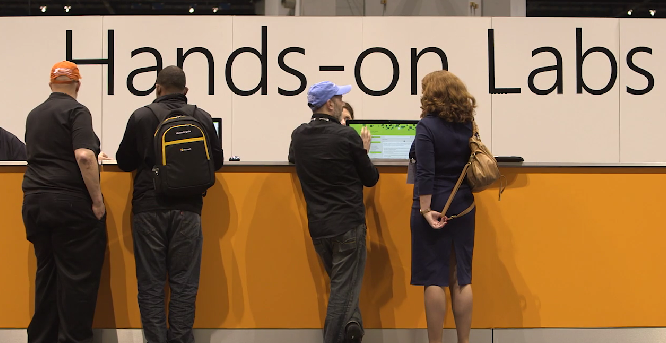 IGNITE STUDIO:
One of the things that really seemed fantastic to me was the Ignite Studio where the audience gets a very " demo centric heavy " experience interacting with the product teams. It wasn't really about demos but also a great explanation of why the implementations were done in a particular for a specific scenario, what are the options to go about the implementation and ofcourse why it makes sense for the new updates.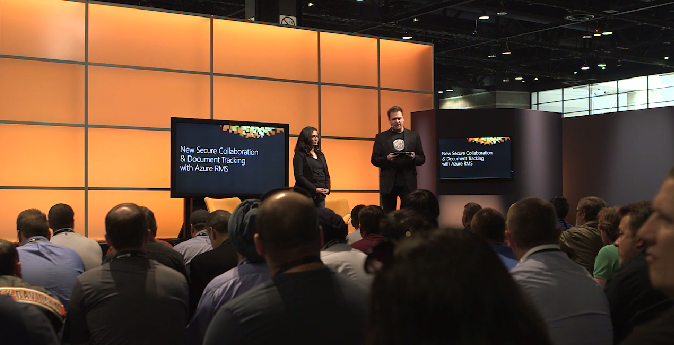 CHANNEL9 INTERVIEWS: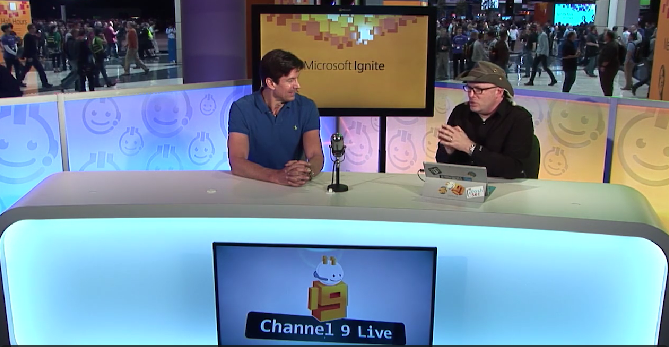 Channel9 was live hosting the interviews with the product leads, which was a great way to do as with multiple tracks it gave a great opportunity to hear and have a conversation with the product leads and team later during the networking sessions.
Microsoft Training & Certification:
A great overview for the training and certification program was presented.
The aspect loved by the audience besides the labs was the fact that they could interact and have conversations with "the people" who are building and implementing the technology.
You can watch all the Ignite sessions here !!
Right Here Right Now
While the past year has been a great showcase of extensive thought leadership by Microsoft's Executive Board and Product Leaders about "the productivity" aspect the company had been coining everywhere, To me this event was a great staged out event that presented "how things can work" , going beyond "how things will work possibly".
The crux of the event was to reiterate thru every keynote- from Satya's to all the product leads that 'creating frictionless experiences thru all the devices anywhere". With an inspiring quote from Satya Nadella, " to empower every person and every organization to achieve more, the stage was truly set for the week to illustrate how across all the products, technology Microsoft is imbibing this mission.
Now That's an amazing statistic to have!
I can truly vouch for a fact that the rate at which changes are being brought about Microsoft towards its vision of "Innovation" is like never before. Microsoft is aggressively geared to rewire itself continuously to be a true leader in the mobile first , cloud first world. The focus is on enterprises and individuals as well to build a bridge that connects the needs of each other with a laser sharp focus on the mobility of the experience with intelligence built into it. The digital, professional and the physical worlds need to intersperse seamlessly and that's where the organization is truly heading- OneDrive and OneDrive for Business, Skype and Skype for Business. What's truly commendable in the demos was the end user experience that was great along with the IT Control requirements from a security perspective for the IT Professionals to manage.
As I pack my bags from the eventful action-packed week at Microsoft Ignite, me and the 23000+ attendees eagerly await for the next Microsoft Ignite 2016! 